Enrolled in school, working at tea stall
Hindustan Times |
, New Delhi
Mahesh Langa
Apr 26, 2012 02:16 AM IST
Child labour law bars children from working at dhabas and tea stalls, but poor enforcement has kept 'chhotu' at work. Mahesh Langa reports.
Ketan Chauhan, 11, is enrolled at School No. 1-2 in Ahmedabad's Asarwa neighbourhood. But he is more likely to be found working at a nearby tea stall than studying in the classroom. The Class 5 student routinely goes to school, marks his attendance, and then walks out to work at the tea stall till 8pm. His wages: R50 a day.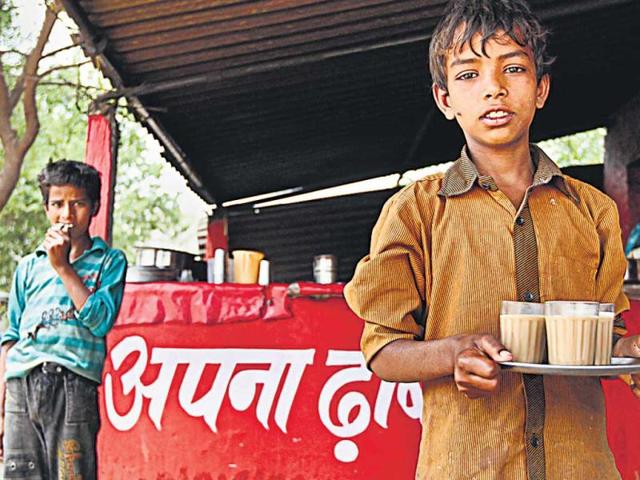 Chauhan is one of the 97% Indian children between 6 and 14 years of age who are officially registered in schools — a statistic that suggests that the country is on the cusp of providing schooling to every child — but remain oblivious to education.
A cocktail of legal loopholes, poor implementation of laws and economics threatens to make the struggle to end child labour and send every child to school under the Right to Education Act a lot harder than the statistics suggest.
The International Labour Organisation estimates that India has 45 million children of school-going age who are working instead of attending school. Thousands more are reported missing each year. And like Chauhan, not all such students enrolled in schools are in class.
The child labour law explicitly bars children from working at dhabas, restaurants and tea stalls. But poor enforcement in most cities means that 'chhotu' remains almost ubiquitous at roadside eateries — a problem the government recognised long back but which it has struggled to set right.
For Chauhan, the reason for working is economic. "I work because my parents are poor," he says bluntly when asked why he is skipping classes. Many children in Ahmedabad city's industrial areas of Vatva, Vastral and Naroda skip school because their parents prefer that they work in factories instead, says Archana Verma, co-founder of Swayam, an NGO that works with street children.
The economics of young, cheap labour also makes it attractive to hire children in violation of the law. The 13-year-old domestic help, who was rescued from an apartment in Delhi's Dwarka last week, should have been in school under the RTE Act. As in the case of those working at tea stalls, domestic child labour is also illegal. But the adolescent girl was allegedly beaten up by her employers, paid nothing, and was left behind, locked up in the house when the doctor couple went for a vacation abroad. The challenge is even more complex in rural India, because of contradictions between different laws that play out there.
The RTE Act insists on free and compulsory education for every child between 6 and 14 years of age. But the law against child labour allows children to work in agriculture and related occupations.
Children of migrant workers, especially construction workers who need to keep moving, also face a challenge. Migrant families from Rajasthan shift each year to work in northern Gujarat's cotton fields, and their children invariably end up missing school, according to the National Commission for Protection of Child Rights, which has also advised the government to ban agricultural child labour.
The inability to ensure that students enrolled with it attend the school is also a reflection of the challenges schools face in maintaining their relevance for students. India's severe teacher shortage means that students often go to school but find no teachers.
Chauhan puts it very simply. "I go to school, but sometimes I feel it's a waste of time," he says. "There is nothing happening there."