In loo-less Delhi slum, kids go missing from 'forest toilet', some end up dead
Jun 14, 2016 12:44 AM IST
In 15 months, 66 children from a slum cluster in the Capital never returned from a forested area nearby where they had gone to answer the call of nature because their shanties lacked lavatories.
About 66 children from a slum cluster in the Capital didn't return from a nearby forest where they had gone to answer the call of nature because their shanties lacked lavatories.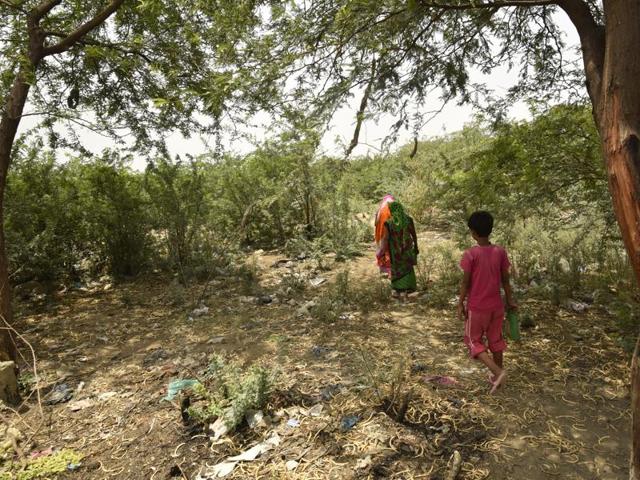 They were among 171 children who went missing in the forest near Shahbad Dairy, a slum in outer Delhi, between December 2013 and March 2015. More horrifying is the fact that five children — four of them below 10 — were killed; 28 girls have been raped and another 17 sexually abused.
Saksham, an NGO, arrived at the disturbing figures by analysing RTI replies for missing children of the slum during the 15-month period.
There is not a single toilet for the 500 families living at Shahbad Dairy, forcing every resident to rush to the adjacent forest to defecate, where children and women become vulnerable to attacks.
Overcome by fear, residents have stopped feeding their children after sunset — an ineffective attempt to prevent nature from calling at night.
"We have no choice but to ask our kids not to eat after evening. We have seen cases where children did not return after going to the forest to relieve themselves," said 45-year-old Raj Kumari, a resident of Shahbad Dairy. "We are always tense… there have been cases of women being dragged into the forest."
Middle-aged Sarita, who has been living in the slum since 1986, vouched that the area was crime-free until a year ago. But not anymore.
"My daughter-in-law doesn't go there alone … she was harassed by men a few months ago. My grandchildren are underweight but at least they are with us. We don't feed them at night for their safety," she said.
Soha Moitra, the regional director of CRY, an NGO for children, warned that the practice of skipping meals could lead to long-term health problems in children. "It is shocking that children go to sleep hungry not because of lack of food but because of lack of toilets."
Women too skip dinner at night. At times, men guard women and children in the woods.
"Our husbands cannot be with us all the time. There is no toilet in the 2km area and despite requesting authorities, we don't see any hope. We have complained to police but they react only after a crime is committed. There is no sense of security at all," said Khushboo, a slum resident.
Police try to ensure security near public toilets, according to the DCP for outer Delhi, but what about a place that doesn't have a loo and people defecate in the open?
"It is not possible to put permanent pickets in slums," said DCP Vikramjeet Singh.
NGOs alleged a hands-off policy when they approached authorities, including the legislator and councillor for the area, to build community latrines for these families.
The attitude goes against the government's mission to build toilets and make India "open defecation-free", a multi-crore rupees effort to stamp out the unhealthy practice of people relieving themselves in the open.
Aam Aadmi Party legislator Ved Prakash, in whose constituency the slum falls, admitted to the problem. "There have been cases of missing children and women were suffering a lot. There was no toilet for the past 25 years. I got 27 toilets sanctioned and it will be constructed soon," he said.
According to Sakhsham, at least 45% of women and children either do not eat or take less food after evening. Malnutrition has crept in as a consequence; and many children are underweight.
Moitra of CRY requested the state government to act, saying children's health and safety were compromised by a lack of basic infrastructure. "Shahbad Dairy is a perfect example of how communities, particularly children, suffer because of government apathy."
Over 60 families in the area are waiting for their kids to return. Some are lucky, though.
"My five-year-old son did not return. After three months of search, he was found at a bus stop. I was lucky to get my child back. I don't allow him now to leave home alone. But it is difficult to keep track of the children all the time," said Pinky, another resident of the slum.
The Delhi Urban Shelter Improvement Board (DUSIB), which manages public lavatories in the national capital, promised toilets in the area. "I have directed officers," board CEO VK Jain said.
Different crimes in Shahbad dairy between 1 December 2013 to 31 March 2015 as per the RTI reply: