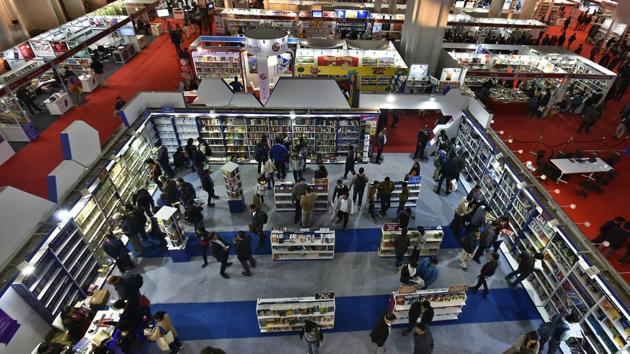 Should the World Book Fair evolve into Delhi's JLF?
Visitors say that the New Delhi World Book Fair ( NDWBF) -- organized annually by National Book Trust (NBT) -- should be more than a "gargantuan book shop". This year the fair attracted 12 lakh people, a lakh more than last year.
UPDATED ON JAN 16, 2017 12:36 PM IST
Should the annual New Delhi World Book Fair in Delhi explore opportunities for becoming more than just a hub for book sellers? The jury is out.
Visitors like Ashim Chowdhury from Kolkata think it is high time that the fair in Delhi should evolve as a "well-curated literature festival". Chowdhury, who described his overall experience at the fair as "disappointing", says it should be more than a book selling event.
" Most of the Author's Corners were poorly organized. Some had unknown authors and poets and some were cancelled," says Chowdhury.
Other visitors agree that the New Delhi World Book Fair ( NDWBF) -- organized annually by National Book Trust (NBT) -- should be more than a "gargantuan book shop". This year the fair attracted 12 lakh people -- a lakh more than last year.
Rakhshanda Jalil , author and a literary historian, says the fair with such a huge captive audience should also serve as a platform for a mega literary festival in the capital.
Read: Bibliophiles throng New Delhi World Book Fair, breaking all footfall records
" Literary festivals these days are turning into entertainment events. A lot of people visit literary festivals to watch performances. I believe that a book fair attracts bona fide book lovers compared to literature festivals," says Jalil.
"Besides, Pragati Maidan is a perfect location for organising a literary festival. It is centrally located, has big halls and open spaces to hold multiple events and accommodate large number of people," she says.
But, National Book Trust (NBT ), the organiser of the fair, is not quite enamoured with the idea.
Baldeo Bhai Sharma, the NBT chairman, says a literature festival is different from a book fair and the two events cannot be integrated. " We do not want to divert focus from books. A book fair is about books and a literary festival is about writers. People from all over the country come to the book fair to buy books that they otherwise cannot find easily. Besides, no other event gives publishers an opportunity to exhibit and sell books on a such a large scale. The event is essentially a celebration of books," says Sharma.
Sharma, however, points to a host of programmes organised by the NBT during the fair that involves authors. " We have Author's Corners, conference and seminar rooms where we hold varied literary programmes," he says.
The Author's Corners that Sharma refers to are small platforms with 50 chairs put up in some halls at the book fair for book launches and conversation with authors. Jalil says there is nothing to write home about the Author's Corners. "There is no dedicated audience for these random events. A well-curated literature festival within the fair will be highly successful. One one can easily knit the two ," says Jalil.
Read: Who's who to attend 10th edition of Jaipur Literature Festival from Jan 19
Publishers say that unlike The Frankfurt Book Fair and The London Book Fair, which serve as a global marketplace for negotiations for copyright , sale and distribution of books, New Delhi World Book Fair has been a platform for exhibition and sale of books. "There is hardly any copyright or distribution negotiations here. We are completely dependent on book fairs abroad. A literature festival will gel with the current exhibition-oriented format of the book fair, " says a major publisher, who pulled out of the fair a couple of years back.
Sanjoy K Roy, managing director, Teamwork Arts , which organises Jaipur Literature Festival, says that though a book fair and literary festival have diametrically opposite motives, combining the two is an idea worth trying. " The focus at book fair is on exhibiting and selling books, while a literary festival is about discussing what is inside a book. Book fairs are publishers-driven events, where the prime motive is to promote book sales . One has to cleverly combine the two," says Roy.
Publishers & Booksellers Guild, Kolkata , which organises International Kolkata Book Fair, has successfully achieved this fine balance.
In 2013, it introduced Kolkata Literature Festival ( KLF) within the folds of the book fair. The Kolkata Book Fair's website says the idea behind the literature festival within the fair is to "celebrate the written word, and the different facets of it – publishing, story telling, theatre, documentaries to name a few".
International Kolkata Book Fair, scheduled to be held this year between January 25 and February 5 will a have three- day literature festival. The fair is perhaps the largest book fair in the world--last year it attracted almost 2.5 million visitors.
Tridib Chatterjee, general secretary, Kolkata Publishers and Booksellers Guild, says the literature festival complements the book fair, not compete with it. And unlike NBT, he does not think that a book festival within the fair takes focus away from books. "How can you separate books from writers. If there were no writers, there would be no books," says Chatterjee.
Read: Jallianwala Bagh centenary a 'good time' for British to apologise: Shashi Tharoor
"The biggest benefit of integrating the book fair with a literature festival is that the festival gets a large captive audience truly passionate about books and writers . All the authors who attend our literature festival are quite happy that they get to interact with such a vast and varied audience," he says.
Kolkata Literature Festival has tied up with many other literary festivals, including Jaipur Literature Festival, to exchange sessions and speakers. Last year, about 45- top notch writers spoke at the literature festival . This year the event is scheduled to have about 50 authors.
Talking about the relationship between a literature festival and a book fair, Priyanka Malhotra, whose Full Circle, is the official book shop for Jaipur Literature Festival, says that a book fair can indeed be a good platform for a well-curated literary festival. But she disagrees with Jalil's contention that a book fair attracts more serious book buyers than a literature festival.
"Unlike a standalone literary event, where we generally sell the books of the writers who speak at the event , literature festival within a book fair provides an opportunity for interaction between publishers, writers , booksellers and book lovers at bigger and deeper level," says Malhotra.
"The idea of a literature festival within the book fair may or may not work , but it is certainly an idea worth trying," says Manju Kapur, a well- known author.
Close