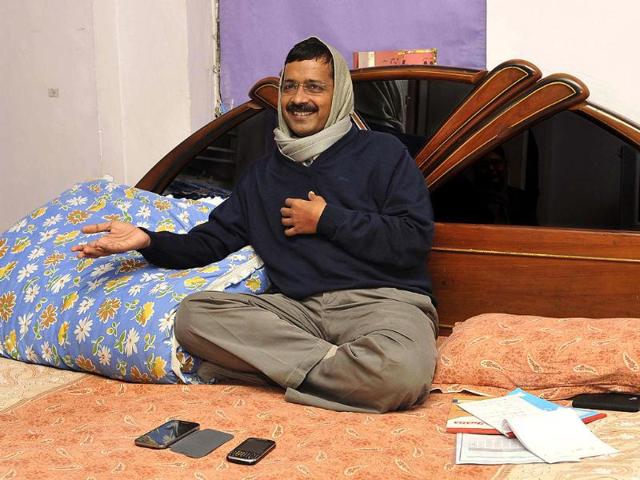 Kejriwal flies in charter plane, says media house funded it
Arvind Kejriwal, who has been attacking major political leaders for using chartered aircraft of corporates, created a flutter by himself travelling in such an aircraft from Jaipur to Delhi on Friday evening.
UPDATED ON MAR 08, 2014 01:35 AM IST
Hours after Aam Aadmi Party leader Arvind Kejriwal attacked Gujarat chief minister Narendra Modi for using private helicopters and aircraft, asking who funded them, the former Delhi chief minister himself landed into a "charter plane" row.
On Friday evening, Kejriwal used a charter plane to fly from Jaipur to Delhi to attend an event hosted by a media house. He tweeted to clarify "India Today has paid for it and since there was no regular flight, India Today group hired a charter to take me to Delhi on time."
Kejriwal also tweeted: "I wud urge modi ji and rahul gandhi ji also to disclose whose planes r they using and who pays for them (sic)."
But political opponents were quick to attack him for what they said was "double speak." Congress legislature party leader Haroon Yusuf said Kejriwal was a hypocrite. "What he teaches he does not practice himself. When he became the chief minister he asked for a bungalow to live in but changed his mind after strong public reaction."
"As CM, he travelled in a small car but now regularly travels in luxury cars. And now he is taking a private jet to come to Delhi. Who is he trying to befool? The public is very intelligent. Kejriwal can hoodwink the people of the country for sometime but not for long," Yusuf said.
BJP leader Nalin Kohli said, "The track record of duplicity and the enormous gap between what Kejriwal piously preaches and actually follows stand fully exposed. He only has an agenda of anarchy."
Close