Sisodia dares Modi as CBI probes Mohalla Clinic, Talk to AK projects
The cases against Manish Sisodia and Satyendar Jain's daughter were referred to the CBI when Najeeb Jung was lieutenant governor of the national capital.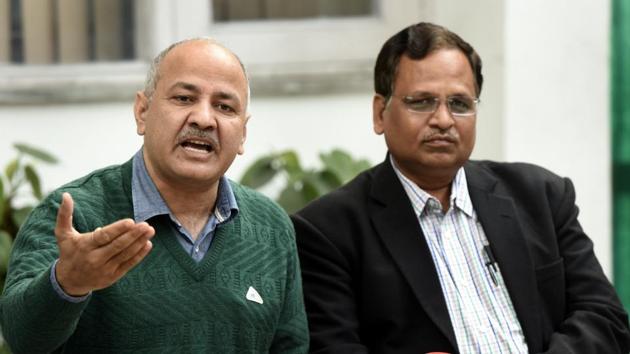 Updated on Jan 19, 2017 02:13 PM IST
The CBI initiated on Wednesday preliminary investigation against Delhi deputy chief minister Manish Sisodia and health minister Satyendar Jain's daughter for two separate cases of alleged wrongdoing.
Both cases were referred to the central agency when Najeeb Jung was lieutenant governor of the national capital. Jung resigned for his position last month.
The CBI initiated its probe registering separate "preliminary enquiries" (PE) against Sisodia and the health minister's daughter Saumya, who was appointed an adviser to the Delhi government for its mohalla clinic project aimed at boosting primary healthcare in the city's neighbourhoods.
"First PE is against Sisodia and unnamed Delhi officials for alleged irregularities in awarding contract for the government's social media campaign,Talk to AK. The second is against Saumya Jain over her appointment as an adviser…" a CBI spokesperson said.
Saumya resigned after her appointment triggered a controversy.
In his response, Sisodia tweeted: "Welcome to the field Mr Modi. I will wait for your CBI tomorrow at my residence and office. Lets see how strong you are."
The city's ruling Aam Aadmi Party (AAP) has accused Prime Minister Narendra Modi of using central agencies and the lieutenant governor, who reports to the Centre, to harass the government of chief minister Arvind Kejriwal. The BJP, which rules the Centre, denies the charges.
The CBI is also probing five cases of alleged irregularities in the AAP government.
These include two FIRs against alleged anomalies in the Delhi Waqf Board when AAP legislator Amanatullah Khan was chairman and appointment of Nikunj Aggarwal as a senior resident in government hospital and later as officer on special duty to health minister Jain.
Besides, the CBI had earlier registered another PE in connection with the creation of a "feedback unit" in the Delhi vigilance directorate to gather information on how the city's government departments were performing.
These irregularities were reportedly found when a Jung-appointed panel went through more than 400 files of the Kejriwal government. That was done to check whether all decisions by the government were in accordance with the law.
Read I YouTube 'kissing prankster' Sumit faces cops again, girls say he's their friend
Close Story