MCD schools to remain shut on Saturday as Delhi chokes on air pollution
Updated on Nov 04, 2016 09:55 PM IST
Some 1,800 primary schools in New Delhi were ordered to shut down Saturday as the Indian capital grapples with some of the worst pollution in recent years, an official said.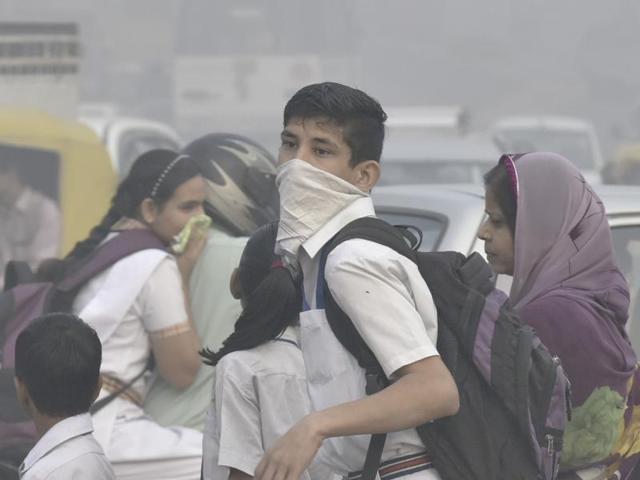 More than 1,700 primary schools under three municipal corporations in Delhi have been ordered to shut down on Saturday as the national capital battles severe air pollution, an official said on Friday.
"The order for closure is only for a day as of now. As per the situation, we may decide to close them later as well," Leader of Opposition in South Delhi Municipal Corporation (SDMC), Subhash Arya said.
About 10 lakh students are enrolled in the schools administered by the South Delhi Municipal Corporation (SDMC), Nouth Delhi Municipal Corporation (NDMC) and East Delhi Municipal Corporation (EDMC).
"The decision was taken today at a meeting held in the wake of severe pollution Delhiites are reeling under. And, since the smog is worse during the morning, it was decided to close the schools," said Arya, also the former mayor of south Delhi.
Read: Air pollution continues to be 'severe', Delhi gets no respite
Air quality in Delhi continued to be rated as "severe" by monitoring systems in most parts of the city on Friday.
Track pollution levels in your city with this real-time air quality map:
The latest pollution crisis began in the aftermath of the celebrations last Sunday night for Diwali when millions of firecrackers were set off, leaving Delhi blanketed in smog.
The reading for pollutants in the atmosphere breached the 1,000 microgram mark for the first time in one neighbourhood in south Delhi -- 10 times the World Health Organization's recommended level.
A new study by UNICEF says some 300 million children live with outdoor air so polluted it can cause serious physical damage, with the situation most acute in South Asia.
On Friday, the environment ministry called a meeting with officials of neighbouring states to discuss ways to combat pollution.
In Delhi's satellite city of Gurgaon, some schools remained closed on Friday, while others cancelled physical education classes and outdoor activities.
With inputs from AFP
Personalise your news feed. Follow trending topics