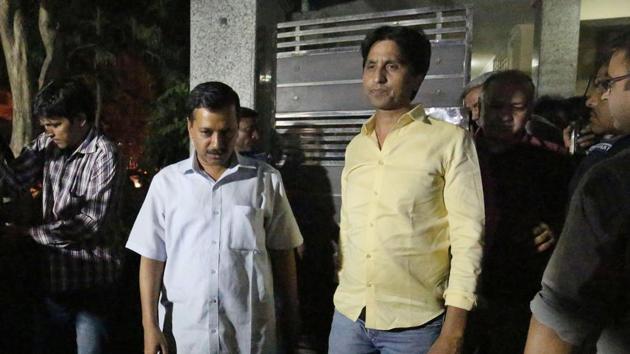 Rajasthan next, AAP hasn't given up national ambitions yet
Rajasthan goes to assembly polls next year and sources said that the AAP was likely to go all out in the state.
UPDATED ON MAY 07, 2017 12:44 PM IST
The Aam Aadmi Party, with the appointment of senior leader Kumar Vishwas as in-charge of Rajasthan, has sent out a clear signal that it has not given up on its national ambitions.
Rajasthan goes to assembly polls next year and sources said that the AAP was likely to go all out in the state.
"This is indicative of our preparation for Rajasthan polls. We will contest the polls in the state. However, there is no decision on whether we will be contesting elections in other states where we were planning to," said a party source.
AAP had been planning to fight legislative elections in four states — Rajasthan, Gujarat, Madhya Pradesh and Chhattisgarh. While the plans for other states were put on hold post the recent poll debacles, Rajasthan is high on priority for the party, sources said.
Vishwas, who has in the past taught in a college in Rajasthan, now has a big task on hand. Rajasthan is likely to be a major election for the AAP which has faced a humiliating defeat in Goa and came second in Punjab.
Vishwas replaced deputy chief minister Manish Sisodia as the party in-charge of Rajasthan, a move that signals that both chief minister Arvind Kejriwal and Sisodia will focus on Delhi, sources said.
The Aam Aadmi Party (AAP) in Rajasthan has about 10 lakh members, said Rajasthan party coordinator Ashok Jain. To manage its affairs, AAP has divided Rajasthan in five divisions — Jaipur, Kota-Udaipur, Bikaner, Bharatpur and Ajmer.
The AAP's Rajasthan unit was established on February 18, 2013. "AAP Rajasthan in-charge Kumar Vishwas is expected to visit Rajasthan in the next few days and hold a meeting with the office-bearers," Jain said.
Repeated poll reverses has forced a rethink and AAP leaders had told Hindustan Times that the decision to contest polls in other states had been put on hold after the party's poor showing in the municipal polls.
"We will continue to work towards national expansion by broadening our organisational network. But the decision regarding which states the party will contest next has been now put on hold. The party will hold a detailed discussion on the issue later," senior AAP leader Sanjay Singh had told HT.
Close