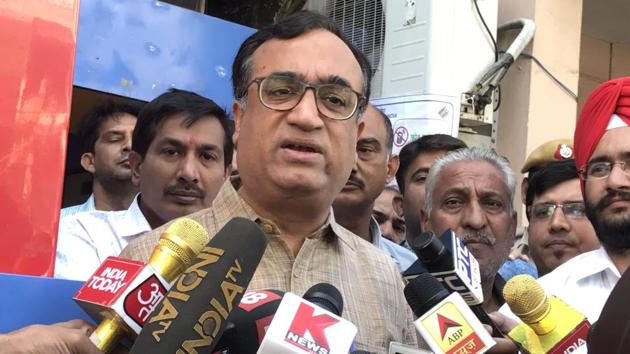 Delhi: Low turnout in Rajouri Garden by poll, 47% cast votes
At a booth in J block, only seven people voted till 9 am while another booth in Cambridge school recorded 80 voters out of the 1,000 registered there.
UPDATED ON APR 09, 2017 11:26 PM IST
The bypoll to the Rajouri Garden assembly seat in Delhi on Saturday saw a low with only 47% electorates casting their votes.
The number was a huge change from the last assembly elections in 2015, during which the constituency had witnessed 72.12% polling. The city's average polling average then was 67.13%.
Rajouri Garden in 2015 came third in terms of voting percentage behind Gokalpuri and Seemapuri where the polling percentage was 73.46 % and 72.89 %, respectively.
"At 6pm, the turnout was 46.2%. We are still to get numbers from one sector. The final number is expected to be close to the 47% mark," Delhi chief electoral officer Chandra Bhushan Kumar told HT.
Kumar said no untoward incidents, be it of violence or otherwise, was received from the constituency. While the EVM was replaced on one booth, voter-verified paper audit trails (VVPATs) were replaced at 38 booths.
"All VVPATs were replaced due to technical errors and none of them were replaced due to complaints of wrong voting," Bhushan said.
As per initial reports, the resettlement, unauthorised, and lower middle class colonies fared better in terms of voting percentage then the affluent neighbourhoods such as Rajouri Garden, Tagore Garden, and Tilak Nagar. At a few polling stations near Chandela Park area of Khyala Village, the voting percentage was close to 50%.
The Rajouri Garden seat fell vacant after AAP legislator Jarnail Singh quit to contest from Lambi against Shiromani Akali Dal (SAD) patron Parkash Singh Badal in the recently concluded Punjab assembly elections.
The AAP later fielded Harjeet Singh as its candidate from the seat while the Congress went with Meenakshi Chandela. The BJP-Akali Dal combine named former Shiromani Akali Dal legislator MS Sirsa as its joint candidate from this west Delhi seat.
Delhi Pradesh Congress Committee chief, Ajay Maken, who is also a resident of the area, was among the first few voters to turn up at the polling station. "The competition here and at the April 23 municipal corporation election is mainly between Congress and the BJP. This election is a referendum of works done by the AAP in past two years," Maken told HT.
Residents and political parties blamed the nature of election — a bypoll — and Sunday's hot weather for the low voter turnout.
"It has been observed that voting percentage remains low in byelections usually. However, we are confident that our candidate Manjinder Singh Sirsa will register a victory with huge margin," said Rajeev Babbar, vice president, Delhi BJP.
AAP candidate Harjeet Singh said "confusion" over the poll date lead to a low turnout.
Preet Pal Singh (75), a resident of C block of Rajouri Garden area also expressed similar opinion and said because of preparation for the municipal elections, voters were confused. "Some of us were not aware of today's bypoll and had to ask why polling is taking place today when the municipal election is on April 23," he said.
The bypoll is a litmus test for the AAP to gauge its popularity in the city. A BJP victory will give a fillip to the party, which is on an electoral surge in other states but is facing anti-incumbency in municipalities in which it is in power. The saffron party at present has just three MLAs in the Delhi Assembly.
On the other hand, a positive outcome for the Congress will ensure the grand old party bags its only seat in the Delhi Assembly.
Traditionally, the Rajouri Garden segment has been a Congress stronghold with Maken winning the seat thrice. However, Meenakshi's father-in-law Dayanand Chandila, who contested on a BJP ticket, won the seat in 2003. He joined the Congress in 2008 and again won the seat. Sirsa has won from here in 2013 as a BJP-Shiromani Akali Dal (SAD) candidate.
.
Close