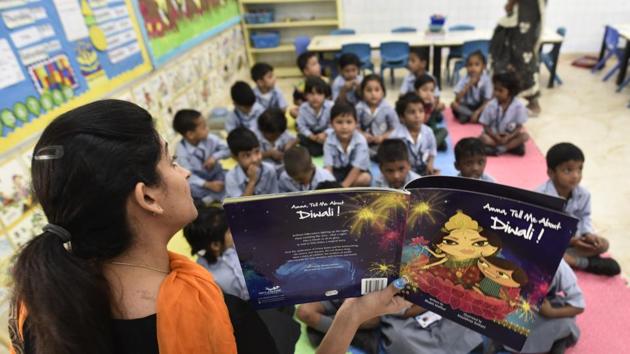 In Delhi schools, 3-language formula may tilt the balance in favour of Sanskrit
The three-language formula will make it mandatory for CBSE schools to offer a regional language and in the absence of infrastructure schools will be left with no choice but to teach Sanskrit
Hindustan Times | By Heena Kausar and Soumya Pillai
, New Delhi
UPDATED ON DEC 25, 2016 03:55 PM IST
Sanskrit may end up being the only choice for students in the national capital under the three-language formula, which aims at promoting regional languages.
Currently, most private schools in Delhi offer Sanskrit along with foreign languages. Schools say most students choose a foreign language and Sanskrit remains only an option. But with the three-language formula coming into place, the students will only be left with Sanskrit.
In its governing body meet on Tuesday, the Central Board of Secondary Education (CBSE) recommended that all schools follow a "three-language formula".
Under the National Education Policy, the formula means that students in Hindi-speaking states should learn a modern Indian language (22 languages under the Eighth Schedule of the Constitution) — apart from Hindi and English — and in non-Hindi-speaking states, they should learn Hindi along with the regional language and English.
The formula is applicable till Class 8 but the CBSE has suggested its extension till Class 10. The students will be required to get passing marks in the third language, sources said. The move is, however, yet to get the Human Resource Development ministry's approval.
"We offer Sanskrit and French. But now most students will study only Sanskrit as the third language. The idea to promote regional language is good but there is no demand for Punjabi, Urdu or any other language in Delhi," said Jyoti Arora, principal Mount Abu School, explaining why the proposal may end up promoting only Sanskrit.
Most principals agree. They say very few students opt for Urdu and Punjabi — two of the official languages of the Delhi government — and other regional languages. This is why very few schools offer the two languages, they said.
Union HRD minister Prakash Javadekar assured on Wednesday that the proposal will not lead to the imposition of one language. "I have not gone through the board's recommendation in detail but we are not going to impose any language. The three-language formula is being implemented across the country, except in Tamil Nadu and Puducherry. We are not changing that," Javadekar told a news conference.
Schools say they can hire a teacher only when the number of students opting for the language justifies the salary of the teaching staff.
"There are 22 languages in the Eighth Schedule of the Constitution. We cannot teach all. The reason why almost all schools will teach Sanskrit is because we have the infrastructure for it. Suppose, I offer a new language, I will have to ensure that there are teachers and supporting infrastructure. What would I do if, some students demand another language," said principal of a prominent private school in Delhi, requesting anonymity.
Rooma Pathak, the principal of MM Public School, said, "There has to be demand from students for other languages otherwise we cannot offer it. A majority of students opt for Sanskrit because it is closer to our culture. So we offer that."
But education is not provided on a demand and supply formula, says Atishi Marlena, adviser to Delhi education minister, Manish Sisodia. "Education cannot be given based on what students demand. Many things taught in maths may not be used by students in real life but it is still taught because it helps them develop an analytical mind. Similarly, the aim of teaching regional languages is to make students respect diversity, learn tolerance and how to live in harmony," Marlena said.
While most private schools say there is no demand for Urdu and Punjabi, in Delhi government schools many opt for the two languages even though all schools don't offer the language. Sanskrit, Urdu and Punjabi are offered as the third language in the Capital's government schools.
In 2015-16, 1,94,801 students opted for Sanskrit, 82,341 students opted for Urdu and 28,612 opted for Punjabi in Class 6.
Though Sanskrit is taught in about 98% schools, Punjabi is taught in 24% and Urdu in 25% schools. The student-teacher ratio for these languages shows the number of teachers for Urdu is low.
In the 1,024 government schools, there are 4,296 Sanskrit teachers but only 854 Urdu teachers and 673 Punjabi teachers. There is a vacancy for 221 teachers in Sanskrit, 179 in Urdu, and 351 in Punjabi.
It means, there is about one Sanskrit teacher for 45 students, one Urdu teacher for 96 students and one Punjabi teacher for 42 students. Sources in the education department said the current situation exists due to the neglect of regional languages.
Marlena said that to address the issue, the government has started the process to hire 769 Punjabi teachers and 610 Urdu teachers. "Our aim is to have at least one Punjabi and one Urdu language teacher in each school. Schools first need to provide the option to students," she said.
The Delhi Minorities Commission in a report in 2015 pointed out the problem of lack of teachers for Urdu and Punjabi.
"It was presented before the commission by many sectors that due to the non-availability of Urdu teachers, students intending to opt for Urdu as a subject are forced to study Sanskrit. We submitted the report and I have heard that the government is hiring Urdu and Punjabi teachers," the panel chairman Qamar Ahmed said.
Experts in both Urdu and Punjabi languages said that very few schools in the city at present teach these as the third language. The first step after notifying the order should be to strengthen the system and appoint teachers.
"Teachers should be trained well and additional teachers should to be hired to promote these languages, otherwise students will only have the option of taking up Sanskrit," said Firoz Bakht Ahmed, English teacher at Modern School, Barakhamba Road.
V Dayalu, general secretary of Sanskrit Shikshak Sangh Delhi, said it is a two-fold problem. "There is lack of Punjabi and Urdu teachers due to which some students have to take up Sanskrit. But the prime reason for taking Sanskrit is that it is a scoring subject," he said.
Kanchan Bhupal, governing council member of Punjabi Academy Delhi, said the academy had been receiving complaints that many schools do not offer Punjabi language. "You first need to give students the option. Was there a demand for German and French? But when the schools started offering it, students showed interest," she said. Bhupal said the government is in the process of hiring Punjabi language teachers.
Close