Class 10 CBSE board exams mandatory from 2018, to include third language paper too
At present, it is optional for CBSE class X students to choose either the board exam or a school-based examination, but come 2018, the exam process will revert to its earlier format.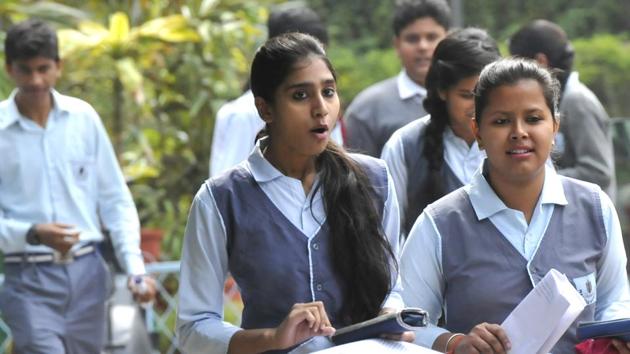 Updated on Dec 21, 2016 08:26 AM IST
The optional class 10 board exam will become mandatory again from 2018 and students may have to study an Indian language, besides English and Hindi, till they pass high school.
The Central Board of Secondary Education (CBSE) decided on Tuesday to make the exam compulsory in its schools, doing away with a policy formed five years ago that offered a choice to students to opt for the board-conducted finals or let the institution assess their performance.
For the high school exam, considered the stepping stone to higher studies, 80% weightage would be given to the written test and 20% to the school's internal assessment.
The governing body of the CBSE, which runs more than 18,000 schools, wants strict implementation of a three-language formula — Hindi, English and another language such as Sanskrit from the list of 22 in the Constitution.
The third language is taught in several schools till class 8, but the board wants to add two more years to it. Students, however, will have to get simple pass marks in the third language, sources said.
But those seeking to study a foreign language will feel the immediate effect of this decision. They might have to study a fourth language such as French, which will be treated as an elective subject in the curriculum.
Human resource development minister Prakash Javadekar supported the proposal to make the class 10 boards compulsory when it was floated a couple of months ago. Ministry sources said the three-language formula would pass muster too.
The government is apparently upset with private schools tweaking guidelines to teach a foreign language as the third. Approximately 13,000 private schools across the country are affiliated to the CBSE.
Schools aren't happy with the board's move.
"We live in the age of globalisation where students are going abroad to study. We cannot make them study only Indian languages. We need to give them options. If someone wants to study an Indian language as third language, she should. But if someone wants to take up a foreign language, that should be allowed too," said Priyanka Gulati, the principal of Evergreen Public School in New Delhi's Vasundhara Enclave.
First implemented in 1968, the three-language formula was reiterated in the 1986 and 2005 education policy. However, most of the CBSE schools do not follow the rule despite a government directive, officials said.
The subject resurfaced in 2014 and became a major controversy after the government decided to bring Sanskrit to replace German as the third language in Kendriya Vidyalayas.
Read | ISC to mirror CBSE syllabus to retain students after Class 10
"It's the states that will decide how it is to be implemented and from when. We are only issuing an advisory that the formula should be followed," a source said.
The class 10 board exam in CBSE schools was scrapped by the Congress-led government and replaced with the continuous and comprehensive evaluation (CCE) through year-round tests and a grading system. It was done to reduce pressure on students.
Many students preferred the second option for their class 10 finals as the general perception was that schools set easier questions for better overall results.
Making the board exam optional has been a subject of debate as most schools said the CCE couldn't be implemented successfully.
"A large group of principals, teachers and parents favour the board exam. The CCE provided a chance identify a student's talent but that required skilled teachers which many schools could not get," said Ameeta Mulla Watta, the principal of Springdales School, Pusa Road.
Read | HT Analysis by Krishna Kumar: Don't make the Class 10 boards compulsory once again
Close Story
Personalise your news feed. Follow trending topics