In Morbi, punish the powerful
Jan 23, 2023 07:15 PM IST
Police action against the Oreva chief for the bridge collapse is long due. Those responsible for the tragedy must face the law
Almost three months after 135 people plunged to their deaths when a British-era bridge collapsed in Gujarat's Morbi town, the police team investigating the accident has decided to name the managing director (MD) of the firm that was responsible for the upkeep of the structure as the main accused in its chargesheet, this newspaper reported on Monday. This is a long-awaited move. A preliminary investigation into the bridge collapse has shown municipal authorities were lax and may have awarded the contract for the repair of the 140-year-old structure to a company without any transparent tendering process, undertaken little supervision of the work done and overlooked the reopening of the bridge until it collapsed on October 30. The company in question, Oreva, also allegedly delegated the project to contractors who used sub-par material and did cosmetic work, cutting corners with a devastating human cost.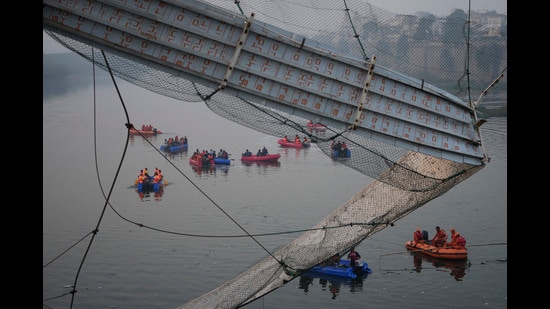 A forensic science laboratory report revealed that rusty cables, broken anchor pins and loose bolts were among the lapses that were not addressed while renovating the suspension bridge. Oreva did not hire any expert agency to assess the load-bearing capacity of the bridge. Yet, throughout this probe, the man who responsible for Oreva's actions — MD Jaysukh Patel — remained absent from the investigation. Since October 30, Mr Patel has remained untraceable and wasn't even questioned; the authorities appeared satisfied with the arrest of nine low-level officials. But now, there is some movement. The police have issued a lookout notice to ensure Mr Patel does not flee the country and have issued a warrant for his arrest. But it is disheartening, and a bit puzzling, that a high-profile businessman continues to evade the police in such a high-profile case. The authorities must ensure that Mr Patel, and all those responsible, are made to face the law and respond to the allegations. At the same time, the role of the municipal officials who allowed shoddy work to pass without adequate checks must also be highlighted and investigated.
The accident in Morbi is a tragic lesson in administrative failure and lax oversight. Far too often in India, investigations into similar disasters are stonewalled or delayed, allowing the cycle of negligence to continue unchecked. The authorities now have a chance to turn a corner, in arresting Mr Patel and the high-ranking officials responsible for the tragedy and give them a fair but rigorous trial. The investigation must not be allowed to be bungled.
Enjoy unlimited digital access with HT Premium
Subscribe Now to continue reading