Religion should not be an excuse to further choke our rivers
Updated on Oct 13, 2016 10:39 PM IST
Religious practices cannot be an excuse to pollute the Yamuna or Ganga. Eco-friendly options need to be adopted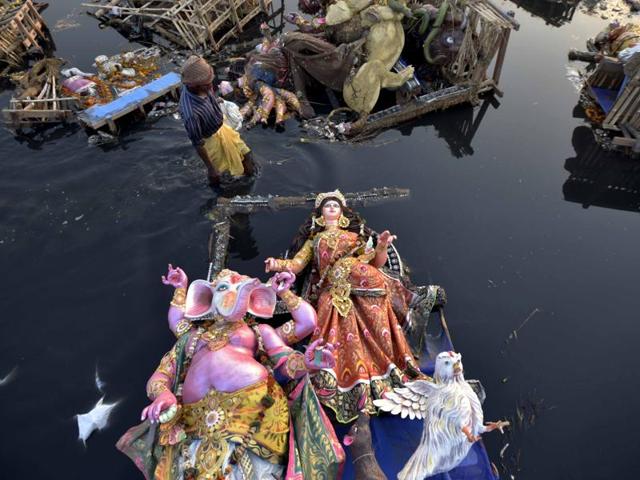 The jury is still out on the extent of damage to the Yamuna floodplains following the mega Art of Living meet earlier this year. Now tonnes of debris have been dumped in the river after Durga Puja, putting enormous pressure on what was once the lifeline of Delhi. Religion and tradition may dictate that idols be immersed in the river but given its condition, this practice must be lessened or discontinued altogether. The idols and other objects immersed contain toxic paints and non-biodegradable substances. These choke a river which is already gasping for breath — along a 22-km stretch of the river that passes through Delhi, there is no aquatic life at all. The pollution is also due to the fact that at least 21 drains discharge their effluent into the river every day accounting for 67% of the pollution. This poses a huge challenge but measures must be taken not to add to this.
Photos | River Yamuna a day after Durga Puja
It is not as though there is no way out of this immersion process. In several areas, there are tanks into which the idols and accompanying items are immersed. If the immersion of idols in rivers is a matter of faith, the Yamuna is considered a holy river and there is no cause to degrade it any further. Today, many more people than before are using idols made of eco-friendly substances. Much of the other accoutrements of the puja can be recycled and need not be dumped into any river. But given the pathetic condition of the river, which has been reduced to a drain in many parts as it goes through Delhi, it is clear that the authorities concerned have to impose restrictions on immersing non-biodegradable items on the grounds that this is in consonance with faith. The Ganga is similarly hugely polluted with the faithful immersing all sorts of items of worship in it. Hundreds of crores of rupees have been spent on the Ganga Action Plan but the river is still polluted and its waters unfit for either drinking or bathing. In the case of the both the Ganga and Yamuna, huge amounts of money has been spent on sewage treatment plants but there has been little impact so far. The Mithi river in Mumbai and the Hindon in Uttar Pradesh are going the same way, in fact according to the Central Board for Pollution Control, there is not a single river in India that can be termed clean.
Read | Eco-friendly idol immersion makes its debut in Gurgaon
Cleaning a polluted river is not an impossible task. Not so long ago, the Thames was very badly polluted. Today, it hosts a variety of aquatic life and is considered among one of the clean rivers in Europe. While what we face here is a gargantuan task, some steps like minimising these mass immersions could help and planning for next year's festivities must begin now.