Bhansali attack: BJP must reprimand Giriraj Singh for encouraging vigilantes
Updated on Jan 31, 2017 09:19 PM IST
It is one thing for fringe groups to laud this kind of violence and intolerance but it is another altogether for a minister of the government, a lawmaker to speak in the same tone. This is not the first time Giriraj Singh has done this and it is surprising that Narendra Modi or Amit Shah has not ticked him off. The message should go out strongly that such intolerance has no place in society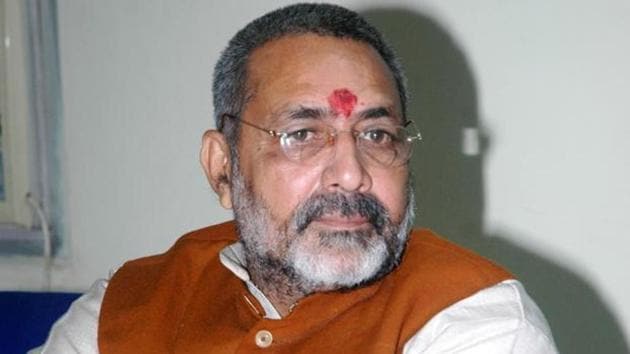 Union minister of state for micro, small and medium enterprises, Giriraj Singh likes nothing more than to wade into controversies in order to display his patriotic and religious credentials. So it is no surprise that he has chosen to throw his weight behind the hoodlums who roughed up filmmaker Sanjay Leela Bhansali's on the specious grounds that he has portrayed Padmavati, ostensibly modeled on Rani Padmini, in an unfavourable light in his forthcoming film.
No film-maker would dare make a film on the Prophet Mohammed, but the queen was being targeted since she was a Hindu, says Mr Singh. He does not stop there. He says that those who play with India's history will be punished by the public.
Read | Sharad Yadav to Vinay Katiyar: A despicable list of sexist remarks by politicos
Mr Singh has in the past come up with remarks on the need for Hindus to have more children in order to prevent the community from being overrun by Muslims — based on nothing more than his prejudices. He has also asked whether the Congress would have accepted it had Rajiv Gandhi married a Nigerian leading to outrage from that country and sensible people in India.
It is one thing for various senas who claim to uphold Hindu honour and faith to make ugly statements. Those who attacked Bhansali were Rajputs cut to the quick at what was perceived as an insult to the community in the celluloid depiction of the queen.
Mr Singh is a law-maker who has no business advocating violence against anyone. If anything, he should have sought action against those who took the law into their own hands and assaulted Bhansali. The ruling BJP, which should have condemned Mr Singh's remarks and taken action against him, is silent. This is what encourages people like him to become repeat offenders.
Apart from a belated rap on the knuckles, various ministers in this government have got away with incendiary and provocative remarks on cow slaughter, the minorities, women and caste. In most cases, there has been little or no censure, which has egged them on to add their two bit worth to various debates.
Read | Tejaswi Yadav invites Sanjay Leela Bhansali to Bihar to shoot Padmavati
They seem to forget that their primary responsibility is to uphold the law of the land and not act as the self-styled custodians of Hinduism and Indian culture. This sends out the signal to all sorts of lumpen elements that they are well within their rights to correct supposed historical wrongs and take the law into their own hands even if this means attacking innocent people. Mr Singh should be strongly reprimanded by the BJP and be put on watch so that he does not continue with his unacceptable ways in future.