Yatra done, Cong poll walk begins
Jan 30, 2023 08:04 PM IST
The Bharat Jodo Yatra may energise the party cadre, but electoral victories will take a lot more work
In the summer of 2022, its bruises still fresh from a drubbing in five state elections, the Congress met in Udaipur to find ways to reinvent the party. Leaders admitted that the party's connection with the ordinary person was fraying and proposed a padyatra (foot march) from the southern tip of the country to its northernmost region in what was to be its largest mass-contact campaign in at least two decades. On Sunday, after 135 days on the road and walking through 75 districts across 14 states, the Bharat Jodo Yatra came to an end with Rahul Gandhi hoisting the Tricolour in Srinagar. A party starved of electoral wins — it has won three assembly elections on its own in the past four years — and atrophying electoral muscle, the Congress chose a simple message: The Bharatiya Janata Party (BJP) is sowing seeds of hate, and only the ideological clarity of the Congress can counteract this supposed danger. This is not a particul-arly new message, even for the Opposition — but for the first time, the Congress argued, a party hit the streets and stitched together a platform of common people in opposition to the ruling party's agenda.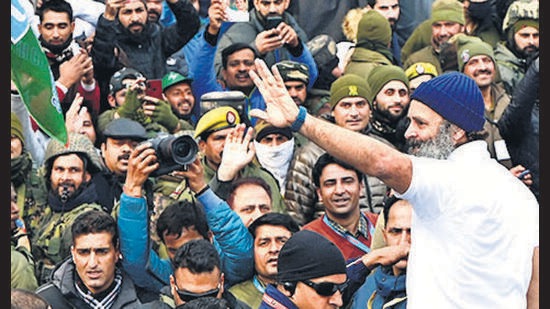 Did it work? To an extent. There is no doubt it attracted crowds, especially in states with strong local party units. More importantly, it energised the cadre in a party where many complain that workers and leaders often wake up only close to elections. The spectacle of arguably the party's most public-facing leader — though he's only a Member of Parliament, Mr Gandhi remains its top campaigner — walking with workers and ordinary people was significant, one that helped him make connections with young people and shake off his image as a simpleton with only sporadic interest in politics. But beyond this rehabilitation, the takeaways for the party may be few. It betrayed an ambivalence about the campaign's outcome when it refused to link the yatra to any tangible electoral results. It will take dedicated work, a clear electoral agenda and focused leadership for the party to become competitive even at the state level — especially in an election year where it will take on the BJP one-on-one in the heartland.
Roughly 106 million people voted for the Congress in 2014 and 119 million in 2019 — so there remains a significant section of the population that is willing to back the party even when its electoral prospects are bleak. The challenge for the party, then, is to secure this vote bank from new challengers (for example, the Aam Aadmi Party or the Trinamool Congress), and grow. On this count, while the yatra may have ended, the journey has only begun.
Enjoy unlimited digital access with HT Premium
Subscribe Now to continue reading