College at last: Here's some 'inside khabar' from DU
Updated on Jul 29, 2015 06:49 PM IST
Freshers are advised to fasten their seat belts and gear up for a ride like never before. The next three years are going to be a high speed roller coaster spin that will include sudden and dramatic acceleration, upturns and downturns, rise and falls, dropping and backward motions.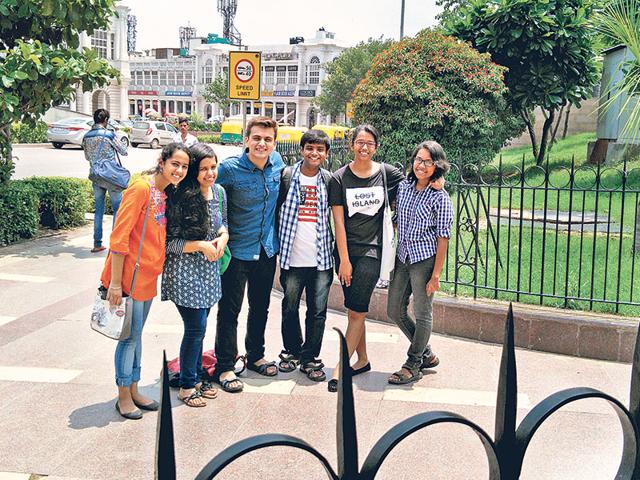 Hindustan Times |
, New Delhi
Ishita Bhattacharjee
Freshers are advised to fasten their seat belts and gear up for a ride like never before. The next three years are going to be a high speed roller coaster spin that will include sudden and dramatic acceleration, upturns and downturns, rise and falls, dropping and backward motions. The ride would certainly be a bumpy one but that is what will make the experience totally unforgettable.
As we begin with the first week of our colleges, leaving behind our schoolkid tag, here's some 'inside khabar' from Delhi University, that will give you a better understanding of life at university.
This week, I have tried to capture the emotions of my outstation friends as they begin this exciting journey of college life in an altogether different city, which is far away from home.
Jessica, on the other hand, is trying to decipher the cultural potpourri that is cooking in the gardens of Delhi University. In her campaign to unravel the secret between the harmonious blend of different cultures, she tries to participate in the cultural exchanges by interacting with her outstation friends and seniors.
We have with us two more CJs who are on the journey to fully embrace college life and its share of adventures. Tushar, who is ecstatic about his admission at IP University, shares his worries about "fitting in," yet retaining his own identity in a crowd. Well, for Niharika, the strategy to deal with college life is to find out what is so different over here from school life. Hence, she attempts to find out the difference between 'school teachers and college professors.'
Ria, who is a Hindu-ite herself, did not leave any stone unturned to closely examine the age-old rivalry between the two jewels of DU north campus, Hindu College and St Stephen's.
Last but not the least, we have Zaid who gives us an insight into what students feel when they dare to take the bold step of a gap year to realise their dreams and stand against the conformity of society, like true heroes.
Each one of us have made an attempt to offer you the various aspects and perspectives of college life. We hope that these articles will help those who have just joined college, broken the ice with other newbies and seniors at institutes and have already spent a week of the roller coster years of college life.
For those who are would be starting this journey, perhaps next year, this might as well be a "ready-reckoner" to what awaits them in the future.

Tushar Priyadarshi

Facebook: tusharpriyadarshi@yahoo.co.in
Twitter: @tusharscs
Instagram: @priyadarshitushar
Dare to be yourself
The 'wait' for college had become a 'weight' while I was giving mental assurances to myself that Tushar has finally grown up, and while I was refusing to accept the same, God astonishingly waved his magic wand and allotted me a good college: IP University.
With just a few days remaining for college to begin for me, and with classes having already begun for most of you, the only fear that lingers on my mind is that of fitting in well not just with the crowd, but also with the thought of going to college.
As I mentally prepare myself for this new phase in life, I have to draw a line between self-respect and ego in order to get along with my batchmates and others and make a place for myself in the cultural potpourri.
As I struggle to fit in the crowd, I will have experiences, some sweet and some sour that would stay on with me throughout my life. We must also remember to not lose our individuality just for acceptance. Everyone has something to teach, and everyone has something to learn. I am looking forward to teaching others and learning from them, something that no book will ever give to anyone.
If acceptance is something that we fuchchas worry about, then our falling prey to peer pressure is something that hardly any parent is saved from. Therefore, the fear of fitting in the crowd and acceptance is only made worse by the fear of 'accidentally' fitting in with the 'wrong' crowd. It is here, that your experience of 17 years in school will come in handy and this is where you will have to make the correct choices.
Mohammad Zaid

Facebook: m.zayd.h@facebook.com
Twitter: @Ht_MZaid
Instagram: insta- @m_zaid_h
What a gap year means
It is in your moments of decision that your destiny is shaped. When you invest your time, you set goals and make decisions about the things that you want to accomplish. Like me, many students step into the college world with a dream of pursuing a course of their choice. While many end up changing tracks, some of them get through in the first attempt. There are others who gather themselves and give it one more shot.
Many students all across India drop a year after their Class 12 exams to get into their desired college or pursue their desired course. It is easier to focus on a single target with a lot of time in hand.
Getting into the IITs is no easy task and a large number of students prepare for the entrance exam, working vigorously throughout the year. With a lot of pressure, students generally succumb to the stress generated due to the huge syllabus and the study pattern. Students from all across India settle for a different course or different college due to high competition and unsuccessful results. Some students even change their streams in college.
The unusually high cutoffs for students changing their streams this year have forced them to drop a year or change their stream. While some students settle for a different college or course, many others give themselves another chance by opting for a gap year.
While many courses involve Class 12 marks as the admission criteria, getting into a good engineering college requires clearing entrance exams of the respective college. With IITs being among the most prestigious institutes in the country, a large amount of students every year appear for the JEE exam with a very few percentage of the lot qualifying it and reserving a seat in the IITs.
Many of the unsuccessful students opt for a gap year, working vigorously throughout another year, strengthening their chances to get into one of the best colleges in India. Preparing for entrance exams requires concentration, hard work, motivation and a lot of self- confidence.
A student must choose a coaching centre very carefully as it can add to his chances of getting selected. Getting into a good college requires a combination of things:
A good mentor, rigorous hard work, self-confidence and the ability to overcome pressure and stress plays a large role in the buildup of a strong candidate. To every student out there who feels low or is going through a hard phase for not clearing the exam this year, I would just point out that it's good to have failure happen in life. It wakes up the Phoenix bird in you so you rise once again from the ashes.
Jessica Duggal
Facebook:duggal.jessica­­@gmail.com
Twitter: @jessicaduggal
Instagram: @duggal.jessica
The cultural medley
Across DU colleges, one can encounter the bubbling energy of the fucchas who have just started to take a sip of the college life and their "gyaani" seniors. Statistically quoting, every academic year around 47% of the entire student fraternity of Delhi University comes in from other states. This 47% further comprises a significant lot of hostellers and PGs, which make them all the more visible among the crowd.
We all are very familiar with the US analogy of "melting pot" and "salad bowl" to explain the processes of social heterogenisation and homogenisation in the nation. The same analogies can now be applied to Delhi University, as it now has become a "cultural potpourri," signifying the co-existence between the local students and those who hail from different states and sometimes even different countries.
My new-found friend Indrajit who is from Assam feels that once you are in DU the entire "heterogeneity of a crowd becomes homogenous" as it provides you a place to showcase the talents and the thought structure you have evolved over the years. Although he laments that people are slightly oblivious to the actual north-east culture, but the fair amount of acceptance does not cease to surprise him.
Rohini, a senior from Uttar Pradesh thinks that the proximity of the two states and similarity between the food habits, festivals, language and even fashion has facilitated a better and an idealistic cultural exchange. Karventha Magaraaj, another student from Tamil Nadu says the dictatorial approach of university, where a student is forced to study Hindi, kills the vibe. Idlis and dosas easily available here works for Magaraaj.
Ria Yadav
Facebook:ria.yadav97@yahoo.in
Twitter: @riaya_
Instagram: @riaya_
Hinduites Vs Stephanians
"Neighbours tend to compete", said Harsh Sinha, an alumnus of Hindu College, and I couldn't agree more. I haven't attended one week worth of classes, and it's really too soon to judge this supposed rivalry, but after talking to seniors, Stephanians and freshers at Hindu college, one thing is evident - everybody has an opinion on this.

The two oldest institutes of Delhi University have always been competing with each other, be it in sports or debates. The origin of this 'rivalry,' however, seems to be the proximity.
Some friction shouldn't be surprising if two of the best institutes are a road away from each other. Interestingly, when friction escalates, and both the colleges start expressing what is normally hidden behind thinly veiled jibes. "My first taste of this rivalry was when during our orientation last year, one of our seniors said: 'life is dead in the school across the road, Hindu is where you live'," said Suryansh, a student at Hindu College.
Stephanians argue that their college is generally the first choice for students, Hindu is the back-up. St Stephen's College, with its interviews, superior infrastructure, air-conditioned rooms, they say, is clearly better. "Even the scenic beauty is better," said Aditi Chaudhary, a student at St Stephen's.
"I never really got the hype about Stephen's to be honest," said Vishruti Saraf, a student at Hindu College. "My college is diverse, with really smart people from all over the country. Most importantly, it gives you a great the college feel."
Anagha Madhu, an alumni of Hindu College, points out that on a few platforms Hindu College does fail but it is a better place to be in, when you consider the freedom it offers.
Few, however, actually care about this 'rivalry'. Students from both the institutions say that they have friends across the road, and no age- old attitudes will stop them from hanging out with each other, or trying out food at each other's canteens.
There are many stories highlighting the 'rivalry' between these premier colleges. But, stories don't offer the current perceptions and reality."I don't think there's much of a rivalry. I find Hindu college equally good, with a friendly atmosphere. I have friends there, and I vouch for their canteen's food," says Yusra, a student at St Stephen's College.
As Paras Arora from Hindu, points out: "Stephen's and Hindu are poles apart from each other. Campus atmosphere is so different in each college." But that does not stop him from hanging out with his Stephanian best friend. What matters is you respect everyone's opinions, not everyone from Hindu is a kurta-wearing political brat, and not everyone from Stephen's is a British accented peep.
Even if they are, it really doesn't matter if students from both institutes are friends, right?
Niharika Maggo
Facebook: niharika.maggo@gmail.com
Twitter: @niharikamaggo
Instagram: @niharikamaggo
Embracing new mentors
A teacher can inspire hope, ignite the imagination and instil a love for learning. With the start of the second week of our entirely new college life, nostalgia hits me hard and reminds me of the school days. The love, warmth, guidance and protection that the school teachers provided us with, is unexplainable. Studying under their guidance, arranging events with them, preparing for various performances and competitions with their expertise is all being missed deeply.
However, by the end of the first week in my college, I was happy to feel the same friendliness and guidance being provided by my college professors too.
College life has definitely put an end to the spoon-feeding and protected environment we had at school. It has given us a chance to take a step ahead and hold the steering wheel of our life. At this point of time the college faculty has been welcoming and helped us adapt to this new environment.
With an encouraging principal, much similar to my school principal and professors ready to guide us to success, the first week has gone by smoothly with lectures attended, campus to explored, friends made and seniors met.Though I missed the deep interactions that I used to have with my school teachers, the college professors too have been very supportive in handling our queries.
The independent life they are helping us develop will help us immensely.One thing that I am sure of is that with the coming weeks to unfold, our professors, their guidance and the understanding that is to be developed will lead us to a welcoming and enriching experience to make our college life even more fruitful.With the memories of our unforgettable school teachers, their guidance and mantras that we are going to cherish for life, our new professors on the other hand are ready to chisel us to perfection with their expertise.
Ishita Bhattacharjee

Facebook:ibhattacharjee26@gmail.com
Twitter: @ishie_b26
Instagram: @ishie_b
Staying away from home
I was a bundle of nerves before the first day of my college. The very fact that soon I am going to enter an entirely new place, would have to talk to total strangers and have to adapt to completely new surroundings, gave me sleepless nights. Having spent a week in the college, I got to meet people, not just from different states but from different countries too. Students are not just anxious and excited, but happy too - with some just a tad unhappy and homesick already. Some are afraid of not being accepted by the people around and are struggling to mix with new kind of people everywhere.
Making new friends wasn't as difficult as I thought it would be. Soon enough, I was able to make a gang of my own, with people not just from Delhi-NCR but others belonging to far-off Assam and Kerala.
From helping them to understand terms like e-rick, K-nags and fuhchas to filling them up with information about shopping and hangouts in Delhi, all has been done by me, just like any responsible Delhi-ite would do.
Close Story
Personalise your news feed. Follow trending topics