Girls of Gurgaon win laurels, topper scores a perfect 100 in 3 subjects
May 21, 2016 10:47 PM IST
Manushi Kumar, commerce stream, of Delhi Public School, Sector 45, emerged the overall topper in Gurgaon with 98.6%.
Girls have again come out tops in the Class 12 Central Board of Senior Education (CBSE) examinations. Toppers in a majority of schools, and in the streams of commerce and humanities, are girls.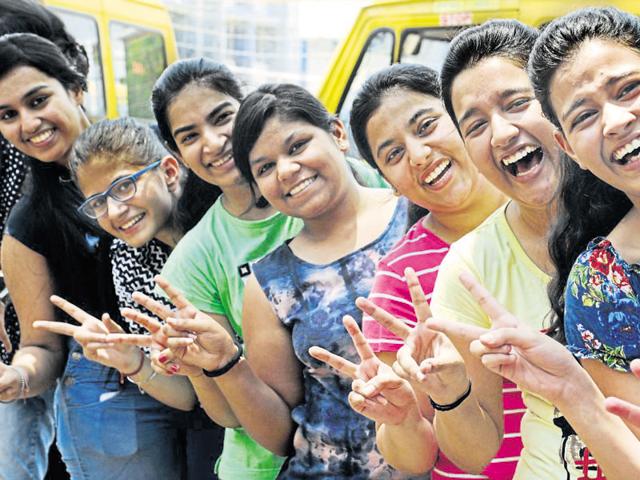 The results of the all-India senior school certificate examination (AISSCE) conducted by the CBSE were announced on Saturday.
Manushi Kumar, commerce stream, of Delhi Public School, Sector 45, emerged the overall topper in Gurgaon with 98.6%.
Shivangi Amba of the same school scored highest in humanities with 97.4%, while Pratyush Maini from DAV Public School, Sector 14, scored the highest in the science stream with 98.2%.
Manushi scored a perfect 100 in three subjects — economics, mathematics and accounts. An elated Manushi summed up her success in one word – concentration. She said she avoided long hours of reading the books aimlessly.
"I divided my syllabus into parts and studied everything in detail. I ensured that if I touch upon a subject, I understand each concept properly instead of just reading what is in the textbooks," Manushi said.
She will be pursuing a degree in economics and hopes to secure a seat in one of the top colleges of Delhi University.
Read: As it happened: CBSE Class 12 results 2016 declared
Aditi Misra, principal of DPS, Sector 45, which had a good number of its students making it to the toppers' list, said the school has been providing a lot of support as well as resources to students without putting pressure on them.
"It is important that parents understand that Class 12 marks will not decide the entire course of their child's life; the percentage will make a slight difference in their future decisions. I am extremely happy with the overall result of the school. Even the students we were worried about have brought us laurels," she said.
She noted that though students were worried about their scores in maths, a majority of them secured a high percentage in that subject.
Aparna Erry, principal of DAV Public School, Sector 14, said children can only achieve success if they balance academics with extra-curricular activities.
"Pratyush, who has topped the science stream, has always been involved in extra-curricular activities and was also the head boy of our school. He learned the art of balance, which helped him enjoy the best of both worlds. Children should not pressure themselves, instead they should enjoy learning," she said.
All major Gurgaon-based CBSE schools, including the two DPS branches, DAV Public School, Amity International School, Blue Bells Model School, Suncity School and Ryan International School claimed a 100 per cent pass percentage.