How to prepare for JEE 2019 and other upcoming engineering entrance exams
Mar 25, 2019 07:40 PM IST
The upcoming months will be crucial as various engineering entrance exams begin from April onwards including JEE as well as private colleges/universities at the state and national level.
This is the time which will decide the future course of your life. The time which will let you now embark on the path to wonderful future. And this is also the time of the year for which the aspiring engineers have been preparing for months and and some for even years. The upcoming months will be crucial as various engineering entrance exams begin from April onwards including JEE as well as private colleges/universities at the state and national level. This is also the time when your stamina and guts and hard work will be tested.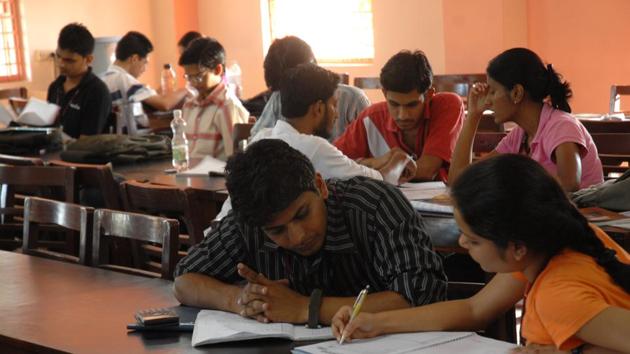 Are you feeling anxious and stressed out? Don't. Below are the few tips which will help you sail through these months smoothy.
Stay tuned with breaking news on HT Channel on Facebook.
Join Now
This is a fact that there are lakhs of students who appear every year in the engineering tests, hoping to secure top ranks and admission into the most coveted or top colleges. Did you know more than 9.65 lakh students registered for JEE Main held in January 2019? Add other entrance exams many of students will be giving. Don't get scared and anxious about the competition. You have been working hard and you are almost ready.
It goes without saying that you still need to push yourself to work harder and most importantly, have a solid study plan to crack these exams. Here are some useful tips on how you can clear the upcoming engineering entrance exams with flying colours.
Before the Entrance Test
Eat and sleep properly
It is essential to take care of your health. Eat less oily and more antioxidants food. Hydrate yourself regularly. If you are feeling anxious, channelise your nervous energy by taking a short walk.
Prepare a Time Table
You have been doing this all your academic life and there is no other substitute now too. You need to balance your school studies with engineering preparations. So, plan a time table as to how you want to allocate your time to school and engineering exam subjects. This will give you clear-cut visibility of what to study when. It is also advisable to decide how many hours or days you want to give to each subject, depending on its difficulty level and your strengths and weaknesses. You should also account time for revisions and some personal activities in your study plan. Lastly, stick to this time table rigidly so that you finish everything in the stipulated time.
Study from Right Books
There is no dearth of textbooks, reference guides and study materials for the engineering exams. However, too many books can create stress because you wouldn't know what to study from which one. It is recommended for you to refer only those books prescribed for the entrance exams. Class 11 and 12 books based on NCERT syllabus are most suitable for JEE Main as well as other engineering tests. If your coaching class provides any study material, you can refer that too.
Create Memory Charts
Physics, chemistry and mathematics - there are lots of formulas, equations and terminologies to remember. The best way to learn them is to revise them daily. You can write these formulas and concepts on chart papers in big fonts and put them on the walls of your study room or other rooms in the home where you spend the most time. You can also make the notes, charts or cheat-sheets using interesting acronyms and short cuts. This way, you can quickly memorize and recall everything you studied.
Solve Sample Papers/Take Mock Tests
The true test to your preparation lies in solving samples papers provided by your coaching institutes or refer to previous year's entrance exam question papers. You can appear for mock tests at your home alone or with friends or at the coaching centre to get the feel of the real entrance test. When you solve the question papers, you will get an idea what type of questions are asked, what is the pattern of the paper, how much time you took to answer the questions, how negative marking is done and which mistakes you made. The mock tests will help you make improvements in your weak areas.
Focus on Meaningful Learning, Not Rote Learning
Study to understand the concepts rather than memorizing them like a parrot. When you have the clarity of concepts, you can crack any question easily and the knowledge stays with you forever. On the contrary, if you simply memorize in a repeated manner without going deep into the roots of the concept, you are likely to forget them at the time of the exam.
Take Rejuvenation Breaks
All study and no play makes Jack a dull boy! As much it is necessary to burn the midnight oil, it is also important to allow yourself some free or me time. After long hours of study, your brain gets tired and needs relaxation. So, don't hesitate to take small breaks to watch your favourite television show, hang out with friends, listen to music or simply take a power nap. You will return to your studies with more focus and a fresh mind.
During the Entrance Test
Keep Calm
It is natural to feel nervous, but keep calm and stay confident on the day of the exam. Think that you know everything and you can crack the paper.
Take an Overview of Paper
Don't start answering the paper as soon as you get it in haste to finish it on time. Spend five minutes reviewing it, so you know the pattern and what all questions have been asked. Accordingly, you can divide your time to each section.
Answer What You Know First
Answer all those questions which you know in the first attempt. You can leave the difficult questions for the end. Every second is crucial in the engineering entrance exam. Hence, do not lose time solving difficult ones first.
Use the Elimination Method
If you don't know the answer to a multiple choice question, starts ruling out the options which you know are definitely wrong. This will leave you with one or two choices - put your brains to work to figure out the right answer.
Trust yourself
It is the most beautiful phase of your life. All the study and learning will help you eventually. Hard and smart work will take you places.
Good luck and take care of yourself.
(Author Dr Ketan Kotecha is Director and Dean, Symbiosis Institute of Technology. Views expressed here are personal.)