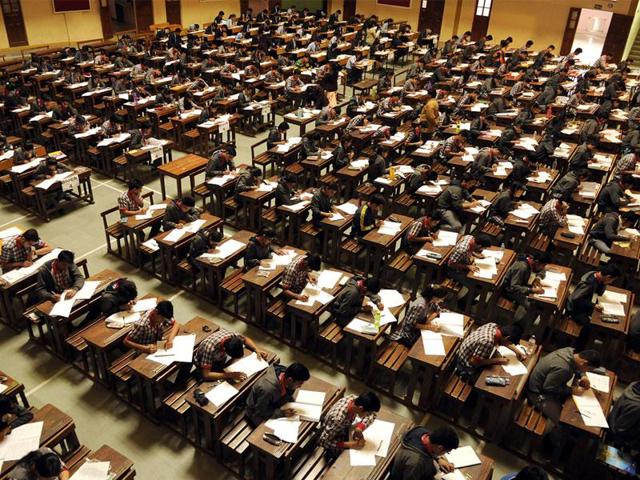 In suicide notes, 2 MP school students speak of failing, fearing exams
A spate of student suicides over pressure to perform has rocked Madhya Pradesh over the last few days, with the ongoing board examinations.
UPDATED ON MAR 05, 2016 10:17 PM IST
The last words of a Class 12 student, before he took his own life a day before his board exam, were an apology to his parents, expressing his fear of failing.
"Sorry, mummy-papa, I cannot do physics. I don't want to fail in the examination," said 17-year-old Abhishek Sahu, before hanging himself at his house in Hoshangabad district on Saturday morning.
The same day, another Class 12 student in Sagar district took her own life over fears that she would fail in the English exam. "Papa mai angrezi me acche number nahi la sakti, mai jaa rhi hun (Papa, I cannot score good marks in English, I'm going away)," she wrote in her suicide note.
Sahu, a student of Samaritans Senior Secondary School, was up until midnight on Friday and reportedly last spoke with his cousin about his preparation before going to bed. At around 4am on Saturday, however, when his parents went to wake him, he was not in his room. After a brief search, they found him hanging from the iron grill in the staircase of the house, Hoshangabad Kotwali police station officials said.
In the other incident, 17-year-old Deepika Choubey, a student of Saraswati Shishu Mandir, Bina, was found hanging from the ceiling fan in her room. Described as an intelligent and disciplined student by her school's principal, Choubey was last seen studying until 10pm on Friday for her English exam the next day.
Her father is a teacher at Himlasa Government School, 15-20km from Bina. "The family members informed the police that she was weak in English and was afraid of failing in the examination on Saturday, which has possibly triggered her to take the drastic step," said Vidyadhar Pandey, the Bina town inspector.
A spate of student suicides over pressure to perform has rocked the state over the last few days, with the ongoing board examinations. The seriousness of the matter was echoed in the state assembly on Friday, when chief minister Shivraj Singh Chouhan announced that those found pressuring students would be dealt with as criminals.
In addition, an all-party committee constituted to look into the suicides will discuss the matter with psychologists and experts in the field of education on how to deal with the problem.
Including the two deaths on Saturday, at least 15 incidents of suicide by school students, allegedly under pressure of studies and examinations have been reported so far this year.
Read | Battling between CBSE Class 12 boards and entrance tests?
Close