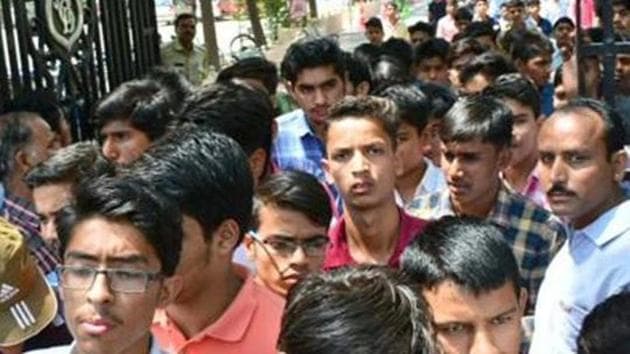 JEE Main 2018: Last minute tips for the examination
JEE Main 2018: Of these 12 lakh students appearing in the exam, only 2.2 lakh will be eligible for the JEE Advanced, which paves the gateway into IITs and other prestigious colleges.
By Rajshekhar Ratrey
UPDATED ON APR 06, 2018 07:14 PM IST
Close to 12 lakh students will be appearing for the JEE Main 2018 exam, which will be held this Sunday, the 8th of April. Of these 12 lakh students, only 2.2 lakh will be eligible for the JEE Advanced exam, which paves the gateway into IITs and other prestigious colleges.
JEE Mains is considered to be one of the toughest exam across the world. Many students start preparing for this exam right from their 8th standard, putting in 5 years of dedicated effort to crack it. For any applicant, the last few hours before the exam are the most critical. The choices made in these hours can make or break an applicants chances of securing a rank.

These are a few tips which will help you:
Revision is the key
Focus on your understanding of concepts, and not on memorising them. JEE is a highly analytical exam and simply mugging up topics will not help. When it comes to formulae, write them down and glance through them just before the exam. Do not start studying a new topic or a new concept. You will end up panicking if you do not understand it, and in the process lose focus of what you already know.
Focus on the weightage
Different topics carry different weightage. Refer to statistics of the previous year papers and decide which topics should you spend more time revising. Solve tougher questions from these topics. Ensure that every concept and formula from these topics is clear. Once you have completed these topics, move on to those which carry lesser weightage.
Keep it simple: Stick to NCERT
By now you have referred to a large variety of reference books. However, on the last day stick to the NCERT books and syllabus since this is the basis for framing the JEE questions. While revising from these books, try to pre-empt how the questions could be twisted. This self analysis will help your mind be more alert.
Mock tests work the best
Mock tests give you an idea of your strengths and weaknesses. You can try new strategies of sequencing your responses to see what works the best for you. Remember, every student has their individual strategy and you are not bound to follow one. Through mock tests, you can also decide which formulae and concepts need better revision, and which concepts are you thorough with. By giving a mock test, you will also acclimatize yourself to the nervousness and anxiety of the real exam.
Time yourself and get your mind used to working at that speed. You will get a rough idea of how long can you spend solving tougher and more complicated questions, and which topics will help you save time.
The mind game
Remember that all of your stress, anxiety, and nervousness is all inside your head. Be confident about everything that you have studied If you feel nervous, solve a few questions from topics that you are sure about. Stick to what you know will work for you - be it meditation, music, dance, sports, or just spending time with family. Keep your mind off the consequences of your exam and how good or bad the paper can go. Only concentrate on how you can give it your best.
Fly solo
It's best to study on your own and keep interaction with friends and peers at a minimum. Do not indulge in comparing notes or mock test questions. JEE has a vast syllabus and there are innumerable tricky questions available from various sources. This will help you reduce peer pressure and you can focus on what you think is best for yourself. This will also keep you disconnected from any unnecessary rumours.
Packed and ready
Make a list of things you need to carry a few days before the exam, and pack your bag before the exam. Ensure that you keep your admit card safe. This will avoid any unnecessary delays the morning of the exam.
Get enough sleep
In the days just before your exam, train yourself to sleep early and wake up early. Your exam is at 9.30am and you need to be at your best at that time. Moreover, if you follow the same sleep cycle on the days preceding the exam, you will find it easier to fall asleep the night before. Your brain needs enough sleep to function at its best the next day. Caffeine or energy drinks cannot be a substitute for sleep. Sleep will also help you deal with the anxiety and you will wake up refreshed.
Remember that JEE is one of the most competitive exams in the world, but it is still not the end of the world if you do not do well. The fact that you have put in effort and dedication for it, and attempted it is an achievement itself.
(Rajshekhar Ratrey is VP, Educational Content, Toppr.com, a learning platform catering to students from classes 5 to 12. Views expressed here are personal.)
Close