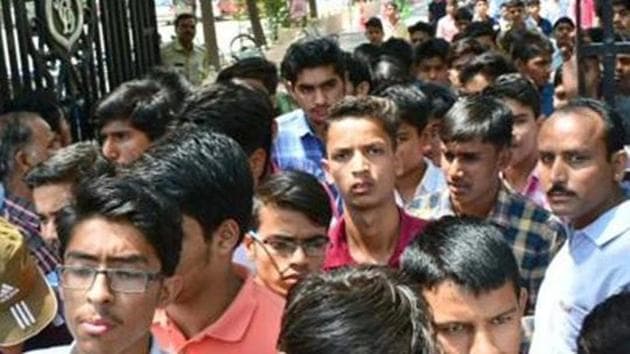 JEE Main 2018: Work on your speed and concept clarity to get through
With less than a month left for the JEE Main 2018, students appearing in the exams need to utilise their time efficiently.
By RL Trikha
UPDATED ON MAR 21, 2018 09:00 PM IST
Aspirants are already geared up for the JEE Mains organised by CBSE to be held on April 8 and April 15 and 16. With over 12 lakh students appearing for the JEE Main - in both online and offline modes - only the top 2.24 lakh will be eligible to appear in the computer-based test JEE Advanced 2018.
In such heavy competition, what should an aspirant do to prepare successfully? With less than a month left for the Main, students appearing in the board exams need to utilise their time efficiently. The time gap between the boards and the Main should be essentially used in taking up online mock tests to analyse each subject's optimum preparation.
Students, who are repeating this year, need to join a coaching institute offering crash courses to be in tune with the current trend and pattern of JEE Main exam. Rigorous revision and attempting several mock tests will help them get through all the three subjects with concept clarification.
In case, a student doesn't find time to join a crash course, they should have a systematic plan for revision and follow it strictly. This will help them in testing their clarity both concept wise as well as chapter wise.
How will the JEE Main 2018 pattern be?
According to prevailing trend, 30 questions from each subject will be asked, and hence selective study is never recommended. In mathematics, more weightage should be given to calculus and algebra. Electromagnetism and mechanics in physics cover most of the proportion of questions asked in the JEE Main. And as per the previous trend, more questions are expected from physical and organic chemistry.
Be ready for tricky, new pattern of questions
If the concepts are clear and the preparation is thorough, there are no tricky questions as such, but there is no harm in being prepared for it. If you have not come across something during the mock tests, firstly do not panic, as this will be new for all the aspirants appearing in the exam.
If you come across one or more of the following type of changes in patterns of some questions do not panic since you may easily solve such problems with clarity in concepts.
· The options may be marked differently or more than 4 options may be available.
· Match the following type questions
· Some questions of statement – assertion type
· Some time-consuming questions with lengthy calculations.
What is your status of preparation?
Ideally, a serious aspirant must have completed the entire syllabus by now and started online mock tests and practice papers.
There is no need to panic if you have not yet started in the same way, however, the following points will ensure success in JEE:
1. Systematic revision plan - Systematic approach towards the preparation of JEE Main along with a proper revision plan will help students get success.
· Identify the topics subject wise you have difficulties in remembering the formulae for solving questions
· Take up previous year JEE papers or question banks of reputed sources of these topics and solve them in a planned manner so that you can practice as much as possible in the time left before the examination.
· Keep a check on your problem-solving ability as spending too much time on a question you do not know will result in loss of time for the easier ones.
· Taking mock tests and having a real-time analysis have been found to be quite useful and students tend to learn from the mistakes and hence avoid repeating them on the D-Day.
2. Time management: Sometimes the right strategy and time management play a vital role in deciding the rank for an aspirant. So, one must be quick enough to adapt to the level of the paper and act promptly.
3. Exam strategy: One basic strategy could be not to give full time in one go to a subject and instead allocate some time so that one could review this subject again. For example, for a three hour paper with three subjects, generally, students tend to give one hour each. It is advisable that they give 40-45 minutes in attempting questions from any one subject they feel confident and move on to the second subject and then to the third. In the remaining time, the unsolved questions may be tried or reviewed. This would help in increasing the attempting and hit rate. However, students may develop their own strategy based on their preferences.
It is highly recommended that students should always attempt theoretical or fact-based questions first and then questions which require calculation. It's human nature that if you attempt a few confident questions in the beginning then you feel loaded with positive energy which increases your efficiency and speed for the rest of the paper. It is advisable to avoid lengthy numerical questions in the first 10 or 15 minutes of the exam.
(Trikha is the director of FIITJEE. Views expressed here are personal.)
Close