What they don't teach at school: Exams not a test for real life
"Where did the missing 0.25% go?" was the most frequent, though a bit satirical, question asked after Arkya Chatterjee topped the ICSE class 12 test by scoring 99.75%.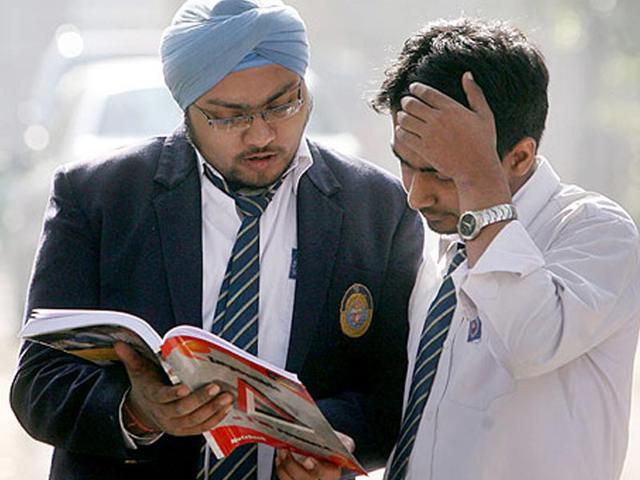 Updated on May 25, 2015 07:27 PM IST
"Where did the missing 0.25% go?" was the most frequent, though a bit satirical, question asked after
Arkya Chatterjee topped the ICSE
class 12 test by scoring 99.75%.
The CBSE class 12 test results were announced on Monday, and another topper emerged with an astronomical score of 99.2%. The discussion will soon shift to hagiographic success stories and how the topper achieved what she did.
No one will question the hype created, probably till some depressed student commits suicide.
Parents of my friends, who scored high marks and obtained class ranks, would wait outside classrooms on the day results were declared and gleefully tell everyone how well their children had done.
What they didn't usually disclose was that the children, in most cases, attended multiple private tuition classes and probably lost out on things a normal child must be indulging in--participating in sports, playing music, reading novels or maybe doing pursuing some random hobby.
You don't need to be a researcher on the education system to say that Indians hype marks and examinations, mostly propelled by a desire for upward mobility.
Even in lower and middle school, the craze for marks, it seems, is more on the part of parents than students, probably because they are too young to realise the tribulations of the world at that age.
"As it stands, our system does not encourage risk-taking and free exploration and is designed mainly to produce students who are good at one thing: taking exams," journalist Sumana Ramanan noted in a recent article on Scroll.in.
Parrot-learning, competing for one or two marks and taking private tuitions all become part of the narrative of "good in studies", and any out-of-the-box thinking or desire becomes an unworthy subversion.
Thus, engineering or medical sciences become worthy ambitions, and everything else, nonsense.
In high school, however, things change a bit – teenagers tend to take seriously the narrative about excelling in examinations no matter what happens. And, of course, for a large section of Indian students opting for the engineering and medical streams, high school is an all together different ball game.
It's a world dominated by choosing the best of coaching classes – deciding on fees and probably relocating to a place like Kota in Rajasthan, hoping it will guarantee a seat in an Indian Institute of Technology.
It is at this point that I have felt certain inconsistencies arise between what a person scores and what kind of an individual he or she is. I have known toppers who wouldn't help a weak classmate in need or would scheme against someone who has scored more than them.
On the other hand, I have known mediocre students who are excellent human beings. Moreover, many well-informed quizzers and debaters are not class toppers.
In engineering college, students who scored the highest marks were not necessarily those who knew the technicalities of their branch – the best coders weren't the toppers, neither were the highest scorers the ones who knew the nitty-gritty of cement and sand well.
Moreover, placements often reflected how independent the process is of marks scored by individuals. People who spent all their time memorising formulas without developing any soft skills were often left behind.
After graduating, the world changes again. People who spent their lives chasing marks and consequently money, have been disenchanted with the system, and returned to do something they love.
There are engineers who are well-known writers or photographers, doctors who are civil servants and MBAs who have started non-profits.
This was best described in a few lines written by journalist Manu Joseph years ago.
"Occasionally I hear that some IITian or the other is returning to the art that he had originally loved. And is making up for the time he has lost because he could crack the toughest questions in the world but could not answer in time the class teacher's annual question, 'What do you want to become in life?'"
But alas in all considerations, whether it's in school or among neighbours, all that counts is "first hota hai apne class mein".
(The writer is a graduate in civil engineering from the Birla Institute of Technology, Mesra, and now a journalist with Hindustan Times. He tweets as
)
Close Story
Personalise your news feed. Follow trending topics