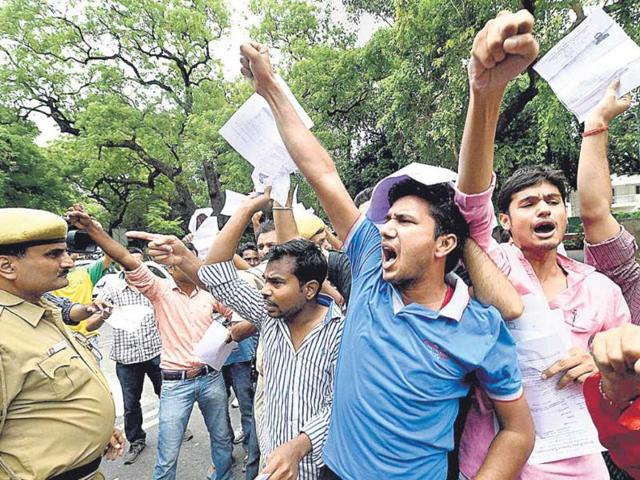 When Hindi is hard to handle
The CSAT and the main exam have seen some of most bizarre translations in Hindi such as 'nayak karta' for star performer and 'nabhikiya parivaar' for nuclear family.
UPDATED ON AUG 06, 2014 11:20 AM IST
The row over the Civil Services Aptitude Test (CSAT) is escalating with each passing day. The government's decision to not include English language comprehension in merit has come after a series of protests by Hindi-medium students on issues such as wrong and difficult translation and more weightage to questions on logical reasoning.
Jitendra Singh, minister of state, Department of Personnel and Training, issued a statement in Parliament on Monday, saying, "The government is of the opinion that in the civil services preliminary exam paper 2, the marks of the question section on English language comprehension skills should not be included for gradation or merit. Candidates who appeared in the civil services exam 2011 may be given one more attempt in 2015."
The entire episode has also brought to light some pertinent issues and anomalies in the question papers such as the Hindi translation of questions. This is not just restricted to questions in the CSAT. There are translation errors in the main exam too. First, the jargon used is too tough to comprehend and second, the translations of certain words and phrases are flawed.
Vivek Gaur, a civil services aspirant, cites an example. "The 2013 civil services main general studies paper had a question on India allowing FDI in multi-brand retail through the joint venture route. The Hindi version of this question has the most bizarre translation of joint venture as 'sanyukta sandhi marg'. Other such examples include star performer as 'nayak karta,' nuclear family as 'nabhikiya parivaar' and steel plant as 'ispat ka paudha,' he says. "Some years ago, there was a question which asked students to comment on the role of the CAG as a watchdog. The translation for watchdog was 'rakhwali wala kutta," says Gaur.
Kanhaiya Pandey has attempted the CSAT a few times in the past and had a tough time trying to comprehend some translations. "I had to refer to the English version in some questions as the Hindi translations were not clear. A candidate ends up wasting a lot of time by doing this. It's not possible to refer to the English version in each ­question," he says.
Protesting candidates are worried about the fact that that the exam papers use internet translating tools for questions in Hindi, resulting in literal translations. In an exam where a single mark determines the rank of a candidate, these literal and difficult translations, students say, could make all the difference between qualifying and not making the grade.
"How many of us would know the Hindi translation for mangove swamps as 'gaaran anoop,' 'kanishta abhiyanta' as junior engineer?' How are we expected to cope with such translations? Even Hindi scholars would find it tough to understand such words," says. Other examples of tough translations include 'prakeern aarekh' for suitable diagram, 'vaig samay' for velocity, 'paristhitiki tantra' for ecosystem, 'harit urja patti' for green energy corridor and 'bahumarka khudra' for multi-brand retail.
Explaining how it affects the Hindi-medium candidates, Abhishek Mall, another civil services candidate, says, "Out of 80 questions in the general studies paper 2 of CSAT, about 40 are based on maths and logical reasoning. About eight to ten are purely English questions and the remaining are bilingual. These remaining questions are originally conceived in English and when translated wrongly, they lose their structure and central idea. This issue not just affects Hindi-medium students but also students from humanities background."
Experts say that this has resulted in a drop in the number of successful Hindi-medium candidates and those from other languages from about 40% to just 9%. Information sought through an RTI filed by aspirants reveals that ever since the CSAT has been introduced, the number of successful Hindi candidates has gone up. Almost 83% successful candidates were from English medium in 2011 and 82% in 2012. Hindi-medium students who qualified formed just about 15%-16% of the total.
The protesting students are still not convinced. "Translation is a crucial issue and it should be solved immediately as we can't afford to lose a single attempt because of this. The UPSC had also accepted this earlier but no concrete steps were taken to rectify it. It is not a Hindi versus English battle," says Manoj Kumar, another aspirant.
Close