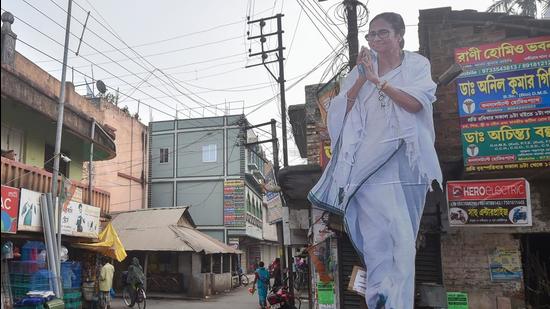 Bengal assembly elections: 'Khela Hobe' slogan has state hooked
Debangshu Bhattacharya wrote the song and uploaded it on social media on January 7. It immediately caught the attention of TMC supporters and became popular. A few days later, when TMC leader Anubrata Mondol used the words Khela Hobe, they became more popular and viral
By HT Correspondent | Edited by Sameer
PUBLISHED ON MAR 10, 2021 10:42 AM IST
When civil engineer-turned politician Debangshu Bhattacharya, 25, wrote the song "Khela Hobe [there will be a game]" in January this year, little did he know that it would go viral and resonate across party lines.
Three months later, the rap song and its versions, have the poll-bound state hooked, and particularly to the two-word slogan Khela Hobe, which has become one of the main slogans for the ruling Trinamool Congress (TMC).
Bhattacharya has written for the TMC earlier too. His songs "[chief minister] Mamata [Banerjee] di ar ekbar [once more]" and "Dilli Jaabe Hawai Choti [chappal will go to Delhi]" also become popular. The latter referred to the slippers Banerjee prefers to wear and her prime ministerial ambitions.
"Khela Hobe has crossed almost all milestones. What makes me happier is that even the BJP [Bharatiya Janata Party] has taken up the slogan. Even the Prime Minister [Narendra Modi] has to refer to this slogan," said Bhattacharya, who joined the TMC after the 2019 Lok Sabha polls.
Banerjee has been using the slogan almost at every public rally.
At a public meeting in Kolkata on Sunday, Modi challenged Banerjee: "Didi, listen to this. TMC ka khela shesh. Khel khatam, vikas shuru [TMC's game is over. The game ends, development begins]."
Union minister Rajnath Singh told a gathering in Dakshin Dinajpur in February that Bengal will witness a "khela of development and peace" if people vote the BJP to power.
On Tuesday, while addressing a workers' meet in Nandigram from where she is contesting the polls, Banerjee said: "On April 1 [when the constituency goes to the polls] Khela Hobe."
Bhattacharya wrote the song and uploaded it on social media on January 7. It immediately caught the attention of TMC supporters and became popular. A few days later, when TMC leader Anubrata Mondol used the words Khela Hobe, they became more popular and viral.
In 2016, Shamim Osman, a ruling Awami League lawmaker in Bangladesh, first used the two very common Bengali words at a political rally, though not as a slogan.
"Khela Hobe should be in favour of peace and development and against any communal feelings. I would genuinely hope that in this game, there is no bloodshed and people get to see a free and fair election. Only then the game could be won," Shamim said in interview after the song went viral.
Bhattacharya said he had political leanings since his school days would collect pictures of political figures when boys of his age collected posters of sports personalities.
"I was influenced by a poem by Rabindranath Tagore when I wrote the song. The song was written when the BJP was hoping that it would rule the state by roping in a handful of TMC leaders. Hence the song says that we would like to ignite a fire of game which would turn into ashes the process of destroying and rebuilding things." he said.
Close