Ajay Devgn rattled off Zanjeer dialogues in audition, reveals Phool Aur Kaante director who wanted Akshay Kumar for film
Published on Jun 07, 2022 09:29 AM IST
Phool Aur Kaante director Kuku Kohli has opened up about how he wanted to have Akshay Kumar in the 1991 film but went on to cast Ajay Devgn instead.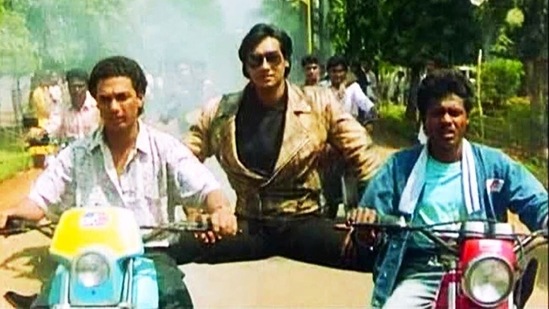 Ajay Devgn made his Bollywood debut with 1991 film Phool Aur Kaante. More than 100 films and 30 years later, Ajay is one of the most commercially successful actors in the film industry. However, the actor was not the first choice for his debut film which went on to be a blockbuster. Director Kuku Kohli has now opened up about how he wanted Akshay Kumar for the film but Ajay convinced him to get cast in the film. Also read: Kangana Ranaut says Ajay Devgn will never promote her film, claims Akshay Kumar called her 'quietly' to praise Thalaivi
Phool Aur Kaante also had Madhoo, Aruna Irani, Jagdeep and Amrish Puri among the star cast. Ajay won an award for his debut and was known for his remarkable entry scene when he appeared on screen standing while balancing on two moving motorcycles.
Talking about how he had chosen Akshay for the film, Kuku Kohli told ETimes in an interview, "I had auditioned many established actors. In fact, I had finalised Akshay Kumar in the lead role. But he had signed a Pramod Chakraborty film which began around the same time. He could not allot bulk dates."
Opening about Ajay's casting in the film, he said further, "Then, I saw Ajay's picture in his dad's office. He was called Raju then. I asked his dad if he wants to become a hero. I auditioned Ajay and he oozed confidence; he rattled off quite a few dialogues of Zanjeer in the audition."
On completing his 30 years in the industry, Ajay had told Hindustan Times in an interview, "Frankly, it was my father's (Veeru Devgan) dream to launch me as an actor. I was just required to focus on realising his dream. Whether I would be successful or not is a thought I didn't toy with at that stage. I just did what I was told."
"When Phool Aur Kaante became the craze it did, I was catapulted to stardom. Every daredevil youngster in the country wanted to make his way through life doing a split on two motorcycles! I was immature, young, unprepared for stardom. God, my parents' blessings and the blessings of the industry and fans gave me the adulation a star receives," he added.
Ajay was recently seen alongside Amitabh Bachchan in Runway 34. He also had notable roles in Gangubai Kathiawadi and RRR. He currently has several films lined up, including Maidaan, Drishyam 2 and Thank God.