Akshay Kumar condemns Richa Chadha's Galwan tweet, says it 'hurts' him to see it
Updated on Nov 24, 2022 06:12 PM IST
Akshay Kumar has reacted to Richa Chadha's tweet on the armed forces, condemning her comments.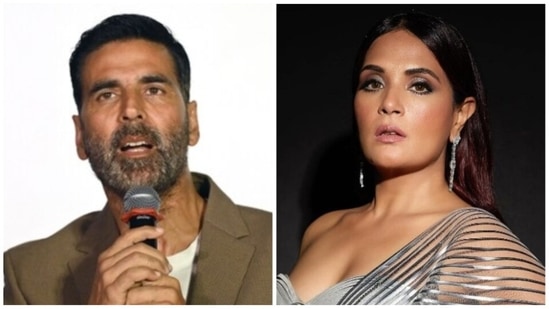 Akshay Kumar is the latest celebrity to wade into the Richa Chadha controversy raging all over Twitter on Thursday. Richa had made a comment about the armed forces that hurt a section of people, and now, even Akshay has condemned it.
Sharing a screenshot of Richa's tweet, Akshay wrote, "Hurts to see this. Nothing ever should make us ungrateful towards our armed forces. Woh hain toh aaj hum hain (We exist because of them)."
On Wednesday, Richa had reacted to Northern Army Commander Lt General Upendra Dwivedi's statement that the Indian Army is ready to execute any orders on taking back Pakistan-occupied Kashmir (PoK).
Lt General Dwivedi's statement was made with reference to the Defence Minister's previous address in which he reiterated New Delhi's resolve to take back Pakistan-occupied Kashmir (PoK), saying all refugees would get their land and homes back.
Lt General Dwivedi said, "As far as the Indian Army is concerned, it will carry out any order given by the Government of India. Whenever such orders are given, we will always be ready for it."
Sharing the statement, Richa took to her Twitter handle and wrote, "Galwan says hi."
As soon as she tweeted this, all hell broke loose on social media and people started to slam her for allegedly insulting the army by talking about the 2020 clash between India and China.
Bharatiya Janata Party leader Manjinder Singh Sirsa has hit out at Bollywood actress Richa Chadha and demanded a police case be registered against her for her reaction to the Indian Army's statement. On Thursday, Richa issued an apology statement through a tweet.
(With agency inputs)
Personalise your news feed. Follow trending topics