Arjun Kapoor reacts to sister Janhvi Kapoor getting insecure: 'She is worried, has no confidence in her own ability'
Jan 16, 2023 06:25 PM IST
Actor Arjun Kapoor revealed that his sister, actor Janhvi Kapoor, gets insecure because she is less confident about her own ability in an interview. He also talked about his bond with Janhvi.
Arjun Kapoor has shared that his sister, actor Janhvi Kapoor, feels less confident about her own ability and gets unsecure at times. He also revealed that she is a fearless person who is ready to take risks in life. She never boasts about being producer Boney Kapoor's daughter. Arjun also talked about his girlfriend Malaika Arora. He shared Malaika is the only reason for his 'happiness' due to which he 'can go to sleep being happy and wake up being happy'. She keeps him grounded. (Also read: Arjun Kapoor is all praise for Mili, tells Janhvi Kapoor 'you continue to make me prouder')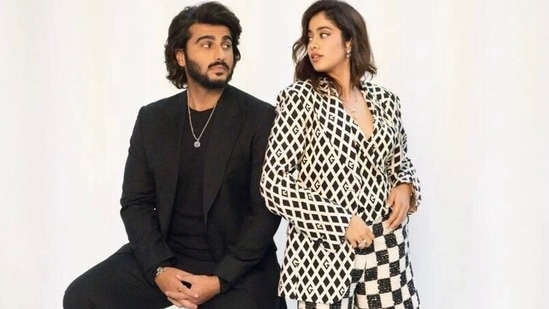 Arjun and Janhvi are both children of Boney. Arjun is the son of Boney's first wife Mona Shourie, and Janhvi is the daughter of Boney's second wife, late actor Sridevi. The two actors did not have good equations while growing up but have become close over the last few years.
While promoting his latest movie Kuttey alongside Radhika Madan, Arjun said in an conversation with Siddharth Kannan, "[Janhvi] is hungry. She is insecure. She is worried and she has no confidence in her own ability. She is always seeking can I do, can I do? She is very unassuming about whose daughter she is and that is important. Her choices are interesting because I think she has come at a time where you have to be fearless. She is ready to take chances. There is nothing nicer than an artiste wiling to take chances. Today, she has done Milli, she did Gunjan Saxena that was a tough film to do"
He further added, "She is taking chances and growing, I feel her future is really bright. We both talk a lot. We talk about everything from to old Hindi films to the kind of film she wants to do. We have a solid equation in terms of talking about work."
Talking about his bond with Malaika, Arjun shared, "Having a partner who keeps you secure and grounded will reflect in your daily movement and daily thinking. She has definitely allowed me to be my own person. I don't have to change to accommodate her in my life. We both fit into each other's lives very nicely even though we have a unique relationship from society's perspective. She is the major reason why I can go to sleep being happy and wake up being happy."
Arjun's latest film Kuttey released on January 13. The film also stars Tabu and Radhika Madan. Janhvi will be next seen in Bawaal alongside Varun Dhawan. The film is set to release on April 7, 2023. She also has Mr and Mrs Mahi with Rajkummar Rao as her upcoming project.