Ꮪhubman Gill slaps himself as he recreates Nikhil Chinapa's Roadies scene with Ishan Kishan, Yuzvendra Chahal. Watch
Feb 02, 2023 08:48 PM IST
Former judge Nikhil Chinapa's angry gorilla avatar from Roadies has been recreated by cricketers Ꮪhubman Gill, Ishan Kishan and Yuzvendra Chahal in a funny video. Even Natasa Stanković reacted to it.
Cricketer and Sara Ali Khan's rumoured boyfriend Ꮪhubman Gill knows how to keep his fans entertained. On Thursday, he dropped a hilarious reel video of himself and his friends and teammates, Ishan Kishan and Yuzvendra Chahal, as they recreated a famous scene from MTV's reality show Roadies. The video has left many in splits, including Nataša Stanković Pandya. Also read: Sonam Bajwa hilariously teases Shubman Gill about Sara Ali Khan as she refutes dating rumours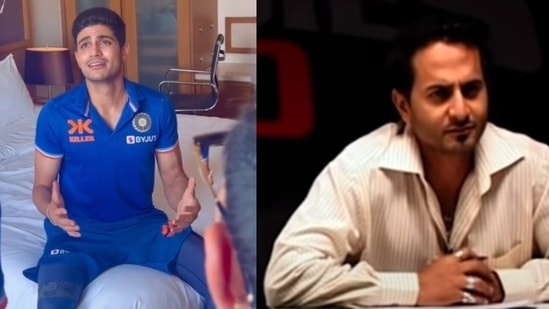 In the video, Shubman Gill, Ishan and Yuzvendra appeared in their blue team India jerseys. While Shubman played a contestant who was badly bashed during his audition, Ishan essays the role of Roadies judge Nikhil Chinapa who mimics a gorilla in their hotel room. Yuzvendra portrayed other judge Raghu Ram in the video and says, "Now you have pissed me."
Ishan stands up from his chair and asks Shubman to show intensity and passion. Reacting to it, Shubman emotionally tells him, "I have that intensity. I have that passion. I will make it, I will definitely make it." To this, Ishan mimics a gorilla pose, in an attempt to copy Nikhil from the episode and jumps on the bed.
He further tells Shubman to slap himself and he does. Ishan slaps Shubman as well and again asks him to repeat it. The two walk away with Ishan saying, "Better." The scene is from the infamous audition round of Roadies. The show is popularly known for providing a platform to celebrities like Rannvijay Singha, Ayushmann Khurrana, Prince Narula, Bani J, Varun Sood and many others.
Meanwhile, Shubman recently made news when Sonam Bajwa teased him about Sara Ali Khan. Sara and Shubman are rumoured to be secretly dating for quite some time. Last month, Sonam rubbished dating rumours with Shubman by replying to a viral post with a 'Sara' tweet on her social media handle.
Sonam re-shared a photo of herself with Shubman from a show on her Twitter handle, and wrote, "Ye Sara ka Sara jhoot hai (This is completely false)." Her reply was in context to the actor. Besides this, Sonam also grilled the cricketer when he appeared on a show with her.
She asked him to name the fittest female actor in Bollywood. Shubman responded instantly, "Sara!" Then, Sonam asked him, "Are you dating Sara?" To this, Shubman replied with a "Maybe." Sonam laughed and further questioned him in Punjabi, "Sara da sara sach bolo please (Please tell us the whole truth)." Shubman answered, "Sara da sara sach bol reyaan (I am telling the whole truth). Maybe, maybe not."