Inside Isabelle Kaif's birthday bash with Vicky Kaushal, Katrina Kaif, all their friends and lots of balloons. See pics
Jan 07, 2023 02:12 PM IST
Isabelle Kaif's birthday party was attended by Vicky Kaushal, Katrina Kaif, Sunny Kaushal and Sharvari Wagh, among others. See all the party photos here.
Isabelle Kaif celebrated her birthday on Friday with a party that had actor-sister Katrina Kaif in attendance. Her brother-in-law, actor Vicky Kaushal, too posed for photos at the birthday bash. On Saturday, Isabelle took to Instagram and shared a glimpse of her birthday celebrations with Vicky, Sunny Kaushal and Sharvari Wagh, among others. Her brother Sebastien Laurent Michel, who is rumoured to be dating actor Ileana D'Cruz, was also seen in the party photos. Earlier, Katrina, too had shared her photo with Isabelle from the birthday bash. Also read: Katrina Kaif has a sweet message for sister Isabelle Kaif on her birthday, shares photo of them posing together at party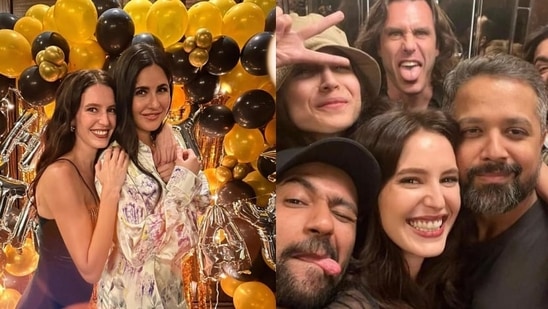 Sharing a group photo with Vicky Kaushal and others, along with some more party pictures, Isabelle wrote in her caption, "How it started to how's it going; thanks for all the love guys." In another picture she posted, Isabelle raised her hand and smiled for the camera as Sharvari lifted her one leg and the two gave a goofy pose. She also shared a blurry photo of herself laughing in front of a party backdrop of golden and black balloons. The last photo she posted, showed Isabelle in bed after the party with a huge bouquet of colourful flowers on her bedside table.
Commenting on her birthday post, actor Mini Mathur wrote, "Fomo (fear of missing out) max." A fan wanted to know why Katrina, who had also attended the party, was missing in the pictures. His comment read, "Where is Katrina!!" Another fan wrote, "Please share pics with Katrina as well."
On Friday, Katrina Kaif had wished her sister Isabelle Kaif with a sweet birthday note as she shared their photo on Instagram. In the photo posted by Katrina, both Isabelle and her are clinging to each other as they pose together and smile for the camera. Katrina wore a printed dress, while Isabelle wore a sleeveless black dress. She wrote in her caption, "It's iszeeeeeeeeeeee happy birthday." Katrina also added a red balloon emoji to her caption.
Isabelle, who made her Bollywood debut last year with Time To Dance, spoke about the advice she had received from Katrina on how to handle herself in Bollywood. She said in a recent chat with Hindustan Times, "Just focus on my work, keep my head down. It also came from different people, anyone who has been in the film industry. They give similar advice. My sister was definitely one of those people who gave me that."