Is Ranveer Singh now a BTS ARMY? Here's how the actor praised group
Jan 04, 2023 09:26 PM IST
Is Ranveer Singh a BTS ARMY? Here's how the actor praised RM, Jin, Suga, J-Hope, Jimin, V, and Jungkook.
BTS has millions of fans across the world and now a new celebrity might just have joined the club. It is none other than actor Ranveer Singh. Actor-influencer Radhika Bangia spoke about her conversation with Ranveer about BTS. She revealed that Ranveer heaped praises on the South Korean group. BTS comprises RM, Jin, Suga, J-Hope, Jimin, V, and Jungkook. (Also Read | Deepika Padukone flashes wide smile, Ranveer Singh keeps it simple as they make stylish entry at airport in black)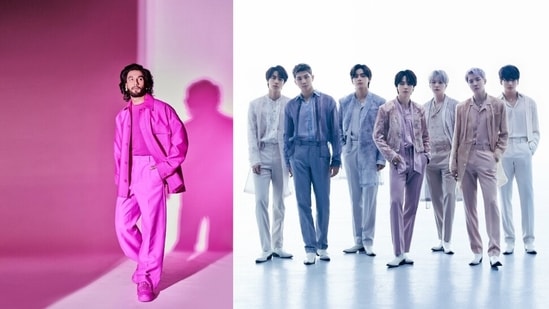 Talking about Ranveer, Radhika called him 'amazing, so warm and so much fun to be around'. She also said that there's so much to learn from Ranveer. The duo had shot a video in which Ranveer spoke a bunch of Korean words. Talking about it Radhika recalled that Ranveer was 'so energetic' as if it was his first shoot.
Speaking with Zoom Digital, Radhika said that Ranveer had no idea about the Korean words he repeated after listening to her. "No, he was not aware, he was just like, he did not know what I'm saying. I had to tell him that this means this, this means this, and it was just a random thing that we did," she said.
Talking about her conversation with Ranveer regarding BTS and K-drama, Radhika said, "He was like, 'Oh my God recommend some K-dramas' and I was like trying to make him into a BTS ARMY, and he saw all that he is like, 'They are so freaking good, like the way they dance and sing, it's amazing'."
Last month, Radhika had posted a video on her Instagram featuring Ranveer. In the brief clip, she said a few Korean words and he repeated them after her. At first, Radhika asked him to say 'Oppa (older brother)' and Ranveer repeated after her looking into the camera.
After that Radhika said 'annyeonghaseyo (hello)' but Ranveer chose to say 'saranghae (I love you)." She had captioned the post, "Happy to be K-Drama and K-Pop influence to @ranveersingh." Reacting to the post, Ranveer had posted finger hearts and laughing emojis.
Radhika and Ranveer featured together in Cirkus, helmed by Rohit Shetty, The film released in theatres on December 23, last year. It also stars Johnny Lever, Varun Sharma, Jacqueline Fernandez, Pooja Hegde, Sanjay Mishra, Ashwini Kalsekar, Mukesh Tiwari, and Siddharth Jadhav, among others. Set in the 1960s, Ranveer played twins who are unaware of each other's existence in Cirkus.
Ranveer will also be seen in Karan Johar's Rocky Aur Rani Ki Prem Kahani along with Alia Bhatt, Dharmendra, Jaya Bachchan and Shabana Azmi. Helmed by Karan Johar, the film is all set to hit the theatres on April 28, this year. Apart from that he also has south director Shankar's next film in the pipeline.