Kangana Ranaut admits Dhaakad was 'historic flop' but says Pathaan is also Shah Rukh Khan's 'first hit in 10 years'
Jan 27, 2023 07:22 PM IST
Kangana Ranaut in a new tweet seemingly took at dig at Shah Rukh Khan's film Pathaan, only hours after praising it in front of media.
Kangana Ranaut is back on Twitter and so are her explosive tweets. On Friday, she posted about Shah Rukh Khan's Pathaan and also reacted to a user who pointed out how her last film Dhaakad was a box office failure. Responding to the comment, Kangana admitted to the poor performance of her action flick. Also read: 'Pathaan is just a film, goonjega to sirf Jai Shri Ram': Kangana Ranaut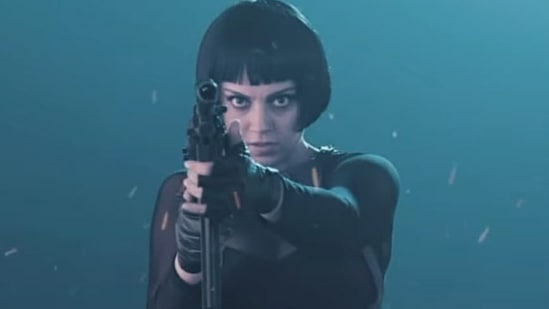 Earlier in the day Kangana tweeted about those who are calling Pathaan's box office success a 'triumph of love over hate'. The film smashed records set by previous Hindi films with its opening day business amid boycott calls and continues to perform exceptionally well at the ticket windows. Reacting to the reception, Kangana, who praised the film recently, credited the success to 'India' love and inclusiveness.'
To this, a user wrote back to Kangana saying, "Kangana Ji's film Dhakad earned 55 lakh rupees on the first day and lifetime collection 2.58 crores. While Pathaan film earned more than 100 crores on the first day. This is nothing but frustration." Responding to the comment, Kangana said, "Yes, Dhakad was a historic flop, when did I deny this? This is SRK ji's first successful film in ten years, we also take inspiration from him, I hope we will also get a similar chance that India gave him. After all this India is great, it is generous, Jai Shri Ram."
Earlier in the day, Kangana had tweeted, "All those who are claiming Pathan is triumph of love over hate, I agree but whose love over whose hate? Let's be precise, whose is buying tickets and making it a success? Yes it is India's love and inclusiveness where eighty percent Hindus lives and yet a film called Pathan (cont)." "Which shows our enemy nation Pakistan and ISIS in good light is running successfully, it is this spirit of India beyond hate and judgements that makes it Mahan… it is the love of India that has triumphed hate and petty politics of enemies."
"Lekin all those who are having high hopes please note… Pathan sirf ek film ho sakti hai … goonjega toh yahan sirf Jai Shri Ram." "I do believe Indian Muslims are patriotic and very different from Afghan Pathans … the crux is India will never be Afghanistan, we all know what is happening in Afghanistan, it's beyond hell there, so apt name for the movie Pathan according to its storyline is the Indian Pathan," she signed out.
Kangana's tweet arrived after she told media, "Pathaan acha kar rahi hai. Aisi films chalni chahiye aur I feel ki jo hamare Hindi cinema wale piche reh gaye hain, har insaan apne level pe koshish kar raha hai (Pathaan is doing very well. I feel films like this should definitely work. Hindi cinema has been lagging behind other film industries, and we are all trying to finally bring back the business in our own little way)." Meanwhile, several celebrities, ranging from Katrina Kaif to Alia Bhatt to Karan Johar and Hrithik Roshan among others, have praised the film on social media.