'Pathaan is just a film, goonjega to sirf Jai Shri Ram': Kangana Ranaut
Jan 27, 2023 02:13 PM IST
Kangana Ranaut took on a Twitter user, who said Shah Rukh Khan's Pathaan was the answer to 'Modi nahin toh kaun?' Without taking anyone's name, the actor said artistes should stay in their 'aukat (limit)'.
Kangana Ranaut spoke about Shah Rukh Khan's Pathaan in a series of tweets on Friday. The actor, who had praised the film after it's release on Wednesday, took a U-turn and questioned 'all those who are claiming Pathaan is triumph of love over hate' after the film broke box office records, grossing ₹106 crore worldwide on its opening day. Responding to a Twitter user, who said that Pathaan was the answer to all those, who keep asking 'who can lead the country, if not Prime Minister Narendra Modi?' Also read: Kangana Ranaut seemingly takes dig at Karan Johar's 'love trumps hate' remark, says 'Pathaan shows Pakistan in good light...'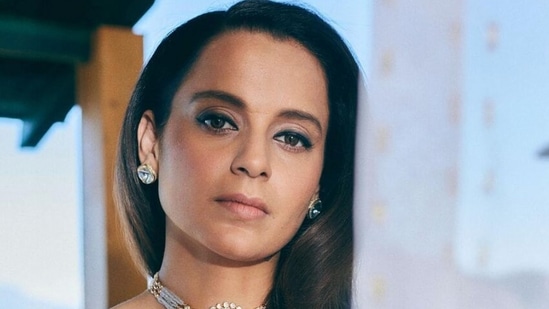 Kangana recently returned to the social media platform after her 2020 ban was lifted. In a new tweet, Kangana said about Pathaan's box office performance, "It is the love of India that has triumphed hate and petty politics of enemies. Lekin (but) all those who are having high hopes please note… Pathaan sirf ek film ho sakti hai… goonjega toh yahan sirf Jai Shri Ram… Jai Shri Ram (Pathaan is just a film, the country will only hear cries of Jai Shri Ram)." After Kangana Ranaut seemingly reacted to filmmaker Karan Johar's recent 'love trumps hate' statement after Pathaan's box office day one collection broke records, the actor targeted those, who suggested PM Modi could be replaced by Shah Rukh's Pathaan.
On Friday, she responded to a Twitter user, who wrote, "I think 2023 has finally given the answer to (the question) – 'Modi nahin toh kaun (If not Narendra Modi, then who can lead the country)???' The answer is Pathaan." Kangana tweeted in response, "Warning: If film industry doesn't want to bear the brunt of political propaganda then they should condemn such propaganda using their films. Tum khelo toh game hai hum khelein toh shame hai, aisa nahi chalega bhai… baad mein mat rona hum toh artistes hai, abhi se aukat mein raho (if they play then it is a game, if we play then it is shame. Artistes should stay in their lane now itself and not cry later)."
She also responded to a tweet that read, "I don't think the movie is great or pathbreaking in terms of script and making – but the response in terms of reactions and collections is slap in the faces of those who have been after Bollywood for no rhyme or reason. It is a silent revolt by the public against the RW (Right Wing) brigade." Kangana reacted to it, tweeting, "If success of Pathaan is openly and shamelessly associated with success of Left Wing politics, which is associated with a party (Congress) then why film industry cries foul if Right Wing ideology opposes them? First decide whether films/ art is political or not.. .If yes then fight opposition righteously aisa nahi ho sakta (it cannot be so that) when you win toh you make films political and rub in our faces and when we win you cry foul and shame us by calling us RW bigots who are exploiting art for political agenda… logic ki maa bahen mat karo sudhar jao (don't abuse logic, correct your ways now)."
Shah Rukh Khan-starrer Pathaan, which also features Deepika Padukone and John Abraham, was released on January 25, after it faced boycott calls and protests in recent weeks. The film is directed by Siddharth Anand.