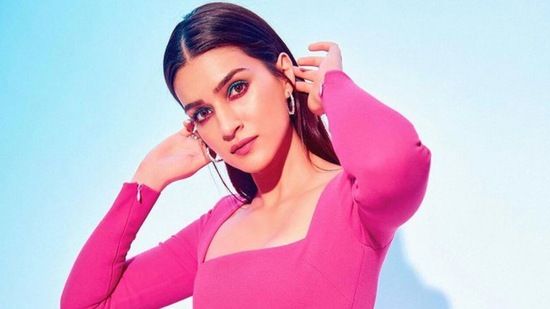 Kriti Sanon on blind items: 'You don't basically have the guts and type in gossip'
Kriti Sanon has once again spoken about her dislike for 'blind items' in tabloids and Bollywood magazines. She had previously asked for a ban on them.
PUBLISHED ON JUL 18, 2021 01:53 PM IST
Kriti Sanon has said that those who publish 'blind items' against celebrities do not have 'the guts'. She has spoken about the practice a few times since the death of her co-star Sushant Singh Rajput last year.
Kriti had earlier called for blind items to be banned. A blind item is a piece of reporting that does not give names of the persons being spoken about but only highly specific clues for the readers to figure out who it is. Often, the article is denied as baseless. Kriti also calls it gossip.
Speaking to Bollywood Hungama, Kriti wrote, "I think it's just obnoxious. You don't basically have the guts and type in gossip. Most of them are not true. It's hearsay; there are no facts. If you know it's a fact then write the name. Who stopped you? [You should] have the guts to write the name. If you can't write the name then don't write. That's not journalism."
"I think that comes under mental harassment because I think it does affect the families of individuals and beyond that. It kinda might sometimes be hampering some relationships. People are in relationships and it might affect them psychologically. We don't even realise it. I think it should be banned," she said.
After Sushant's death, Kriti took to social media to share a long post on how blind items should be called 'illegal'. "There should be RULES for Journalism- someone should define what's acceptable, what's not, what falls under 'journalism', and what comes under 'None of Your Business' and 'Live and let live'," she had written in an Instagram post.
Also read: Crime Patrol's Annup Sonii completes course in crime scene investigation, calls it 'extremely challenging'
"Blind Items should be ILLEGAL, should be banned! They should come under Mental Harassment! So you either have proof and some f***ing guts to write the names or don't write it at all! You write 'hear-say' and call it journalism while you have no idea how badly that can affect someone's mind, their family, their life. Little Birdie is usually not right," she had added.
Kriti will soon be seen in Mimi with Pankaj Tripathi. She will play a surrogate mother in the movie.
Topics
Close