Kuttey song Phir Dhan Te Nan: Fans say you can ignore Arjun Kapoor, but not Tabu and Sukhwinder Singh. Watch
Jan 05, 2023 05:29 PM IST
Kuttey song Phir Dhan Te Nan: The music video featuring Tabu, Arjun Kapoor, Radhika Madan and Konkona Sen Sharma was released on Thursday. The original Dhan Te Nan from Kaminey featured Shahid Kapoor.
Phir Dhan Te Nan remix from Kuttey was released by the film's crew and cast on Thursday. The song featured Tabu in a new avatar as she matched Arjun Kapoor and Radhika Madan's every step in the music video. Konkona Sen Sharma is also seen in the remix. Sukhwinder Singh and Vishal Dadlani, who had sung the original Dhan Te Nan in the Shahid Kapoor and Priyanka Chopra-starrer Kaminey (2009), have also lent their voice to the remix version in Kuttey. Also read: Arjun Kapoor, Tabu are out to cross one another in this heist thriller. Watch Kuttey trailer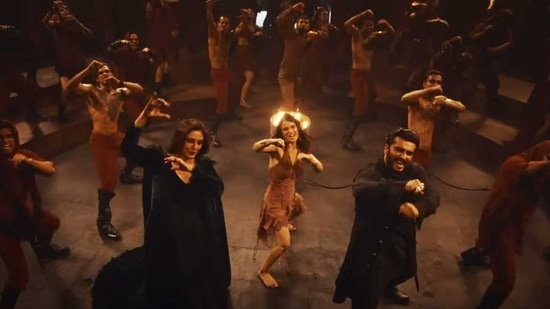 Phir Dhan Te Nan was released weeks after Kuttey's trailer was unveiled. The more than two-minute-long music video opens with Radhika Madan dancing to a catchy tune before Tabu makes an entry, and stares Arjun in the eye as the two play a game of poker, all while being surrounded by bare-chested men and dancers. After the game is over, just when Tabu and Arjun are seeing fighting each other with swords, an angry-looking Konkana, dressed in a black armour-inspired outfit, makes an entry. Before you know it, Tabu and Arjun have joined Radhika on what appeared to be a stage inside the dark and gloomy indoor space. The three then show off their dancing skills as they do their Phir Dhan Te Nan hook-step.
Reacting to the Phir Dhan Te Nan remix and official music video shared on YouTube, a user wrote, "You can ignore bollywood and Arjun Kapoor, but you can't ignore Tabu and singers Sukhwinder Singh and Vishal Dadlani." Comparing the remix to the original, a fan wrote, "No one can touch the dedication level of Shahid Kapoor." Another one wrote, "The old one has the vibe... This definitely killed the vibe." Praising Sukhwinder's singing, a fan wrote, "Sukhwinder Singh has a different vibe."
Kuttey is produced by Luv Ranjan, Vishal Bhardwaj, Ankur Garg and Rekha Bhardwaj under the banner of Luv Films and Vishal Bhardwaj Films, and presented by Gulshan Kumar and Bhushan Kumar's T-Series. The film's music is by Vishal Bhardwaj and lyrics by Gulzar. The film is set to be released on January 13. Directed by Aasmaan Bhardwaj, alongside Arjun, Konkona, Tabu and Radhika, it also stars Naseeruddin Shah, Kumud Mishra, and Shardul Bhardwaj.