Kuttey trailer: Arjun Kapoor, Tabu are out to cross one another in this heist thriller. Watch
Dec 20, 2022 01:39 PM IST
Kuttey trailer: The upcoming heist thriller is filled with dark humour, curses, and lots of action. It features an ensemble cast of Naseeruddin Shah, Tabu, Arjun Kapoor, Konkona Sensharma and Radhika Madan.
The trailer of the upcoming film Kuttey shows every man and woman out for themselves as they try and capture a van full of money. Featuring an ensemble cast of actor Naseeruddin Shah, Tabu, Arjun Kapoor, Konkona Sensharma, Kumud Mishra, Radhika Madan and Shardul Bhardwaj, the film is the directorial debut of Aasmaan Bhardwaj, son of composer-director Vishal Bhardwaj. The nearly three-minute trailer is broken up into three parts as it shows what happens when the gang collides in this heist caper. (Also read: Kuttey first look: Arjun Kapoor is a rugged cop, Naseeruddin Shah delivers intense dialogue and Tabu steals the show)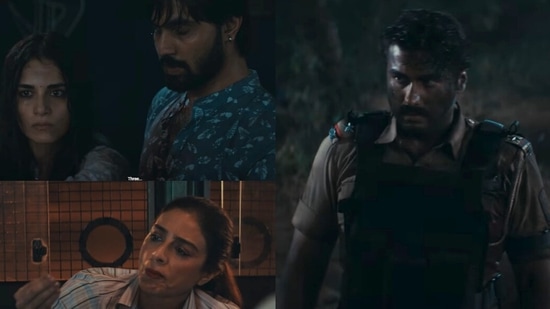 Arjun introduced the trailer on Instagram with the caption, "Hato Kamino! Kuttey aa gaye!! (paw emoji) Kuttey trailer out now!" Fans dropped heart and fire emojis on the trailer post. One fan wrote, "@arjunkapoor amaze amaze (fire emojis). All the best to you (red heart emoji)."
The trailer opens as the main cast has guns trained on Arjun. He asks them to lower down their weapons on his count, but he seems to the only one to do so. It then moves on to the 'characters ka intro (introduction of characters)' as we meet the crooked gangs. Arjun and Kumud seem to be working together and Naseeruddin's character promises them a good sale of illegal weapons. Tabu is a badass police officer, while Radika Madan is a bride-to-be, who seeks to run away with her lover (Shardul). The video also shows a glimpse of filmmaker Anurag Kashyap in a scene. Konkona's character is a rebel leader with no fear.
The second chapter is the 'story ka plot (story's plot)' where a plot to steal money from a van is hatched. Except its three different gangs who decide on the same plan. What happens when they show up at the same time? The third chapter is 'bhasad ki shuruat (begginning of problems)' as it all comes to head when everyone is face to face. The fast-paced trailer is filled with dark humour, curses, and lots of action. The twist upon twist shown so far indicates that no one can be trusted.
Kuttey, written by Aasmaan, will be released in theatres on January 13 2023. Vishal has also provided the music and background score, while Gulzar has written the lyrics. The film is produced by Luv Ranjan, Vishal, Ankur Garg and Rekha Bhardwaj.