Laal Singh Chaddha song Tur Kalleyan: Aamir Khan evolves month by month as he runs across India. Watch
Published on Jul 25, 2022 03:52 PM IST
Aamir Khan runs across the length and breadth of India in Laal Singh Chaddha song Tur Kalleyan. See how his character evolves over several months.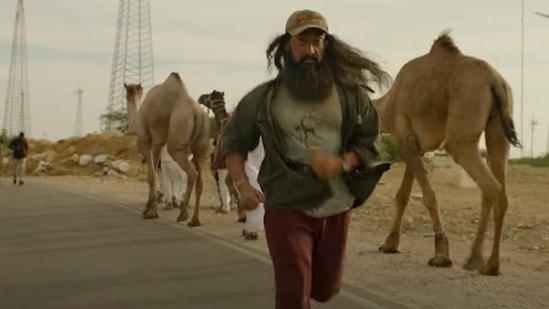 The music video of new Laal Singh Chaddha song, Tur Kalleyan is out now and shows how Aamir Khan runs across various regions of the country over several months as he lets go of his past to embrace self love. Aamir plays the titular role of Laal Singh Chaddha, in the remake of Forrest Gump that had Tom Hanks in the title role. Also read: Laal Singh Chaddha song Kahani: Sonu Nigam's soulful voice narrates timeline of Aamir Khan-Kareena Kapoor romance
A prominent change in Aamir is seen as he starts running from his Punjab home to various parts of India, North to South, East to West with his hair and beard growing each month. Sung by Arijit Singh, Shadab Faridi and Altamash Faridi, Tur Kalleyan is written by Amitabh Bhattacharya with music by Pritam. The summary of the music video says that it is shot across the length and breadth of India and captures the beauty of rising above everything else and walking alone.
Like other songs from the film, Tur Kalleyan, too, was first released in an audio version first on July 15. The first song Kahani was also released in a similar manner, the audio version was followed by a video version several days later.
Directed by Advait Chandan of Secret Superstar fame, Laal Singh Chaddha follows the extraordinary journey of a simpleton played by Aamir, as he chases his dreams and love. It also features Kareena Kapoor, Mona Singh and Naga Chaitanya in pivotal roles. Backed by Viacom18 Motion Pictures and Aamir Khan Productions, the film is scheduled to be released worldwide on August 11.
The screenplay of the film has been written by actor Atul Kulkarni, who worked with Aamir in Rang De Basanti. He told PTI, "A film like Forrest Gump can't just be translated, it has to be adapted. Every word was a challenge because it's such a beautiful screenplay. So, everything is Indianised in Laal Singh Chaddha. It's a very desi film, made for Indian audiences. It's an important and lovely film. I think everyone should watch it."
Personalise your news feed. Follow trending topics