Priyanka Chopra keeps Malti close as they spend a lazy Sunday with Nick Jonas on the beach. See pics
Jan 23, 2023 07:57 AM IST
Priyanka Chopra has shared a few pictures from her Sunday outing to a beach with husband Nick Jonas and daughter Malti.
Priyanka Chopra has shared a few candid pictures of herself, her daughter Malti and husband Nick Jonas as they went to Malibu on a day picnic on Sunday. Sharing the pictures, Priyanka simply wrote, "Sunday" with a heart eyes emoji and folded hands emoji. The family of three spent some time on the beach in the sun and some time at a restaurant overlooking the beach. Also read: Priyanka Chopra poses with Malti for magazine, recalls her premature birth complications: 'She was as big as my hand'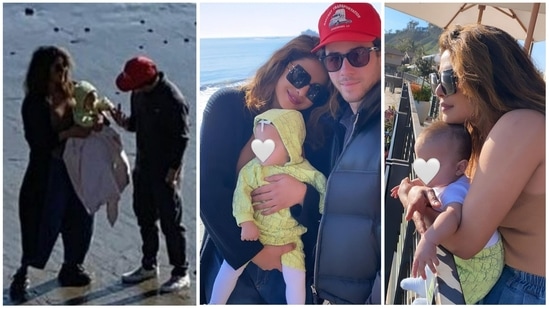 The first picture shows all three of them in the frame. Both Priyanka and Nick are seen twinning in black winter casuals. Priyanka is seen holding Malti in her arms, who is in a yellow hoodie dress and white stockings. Her face is hidden with a heart emoticon on the picture. It is followed by a picture of Priyanka and Malti watching the sea from a distance. Malti is seen in a white tee, without the hoodie as she stands on the railing with Priyanka's support to savour the view. The third is a long shot of the three of them standing on the beach with Malti in Priyanka's arms.
Many of Priyanka's followers questioned her about posting Malti's pictures but keeping her face hidden. One of such comments read: "Why are closing her face, stop posting her till you are ready to show us her face." Many of her fans took it upon themselves to defend her. A fan replied, "It's ok she's a mother it's her wish... sometime people's are afraid of evil eye's not a problem if she hides. Its not about celebrities but it's all about mothers care towards her child...stay bless you and family, may god protect you from everything amen." Another wrote, "If you don't like it then don't follow her!! She is so proud of being a mother, but also has the right to protect her daughter however she wants!! God bless you & Nick such a beautiful family #maltimariechoprajonas." One more said, "A lot of celebrities do this and it's their baby so they can show as much or as little as they want. Looked like a fun day."
Malti is now one. She was born via surrogacy and was in the intensive care unit for more than 100 days as she was born premature.