R Madhavan at 'complete loss of words' on seeing Olympian Mirabai Chanu eat on floor at home: 'Cannot be true'
Updated on Jul 29, 2021 10:20 PM IST
R Madhavan was at a 'complete loss of words' on seeing a picture of Olympic silver medalist, weightlifter Mirabai Chanu eating food at her home in Manipur.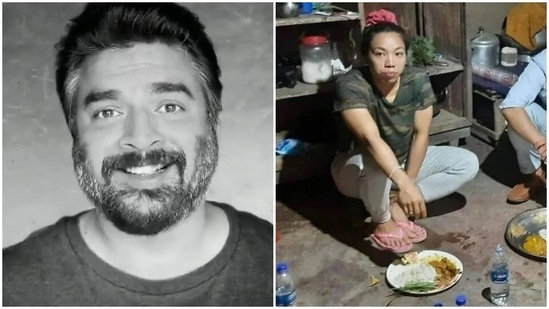 Actor R Madhavan said he was at a 'complete loss of words' on seeing Olympian Mirabai Chanu eating a meal at her home in Manipur. She returned to India recently after her silver medal win in the women's weightlifting 49 kgs category.
In the photo, Mirabai is seen eating rice with some curry while sitting on the kitchen floor with two others. She looked at the camera for the picture while still eating her food.
Retweeting the photo, Madhavan wrote, "Hey this cannot be true. I am at a complete loss of words." Mirabai also shared a fresh picture from her home, sharing a better look at the large spread that was prepared for her. "That smile when you finally eat ghar ka khana after 2 years," she wrote with her photo.
After her big win, Mirabai had told reporters that the first thing she wants to do is eat some pizza. Since then, pizza chain Domino's has promised the 26-year-old free pizza for life, while multiplex chain INOX said on Wednesday that she would never have to pay for another movie ticket. She returned to her hometown of Imphal on Tuesday and is now spending time with her family.
Earlier, actor Anushka Sharma had also expressed her admiration for Mirabai, sharing a picture of her golden earrings that she wore to the match. The earrings were a gift from her mother and were shaped after the Olympic rings.
Other Bollywood stars, too, shared their congratulations for Mirabai after her win. Anil Kapoor wrote, "Congratulations @mirabai_chanu !! This is incredible!! #TeamIndia #Cheer4India." Abhishek Bachchan wrote, "Congratulations @mirabai_chanu on bringing India a silver medal in weightlifting and giving us a strong start!"
Also read: Priyanka Chopra showers praise on Mary Kom after her Olympics exit: 'What ultimate champion looks like'
Riteish Deshmukh wrote, "Congratulations #mirabai & thank you for making India proud. #Olympics #silver - Jai Hind #MirabaiChanu." Dia Mirza wrote, "This is precious #MirabaiChanu @mirabai_chanu Creates history by winning Olympic silver for #Weightlifting #Cheer4India #TeamIndia."
Personalise your news feed. Follow trending topics