Taapsee Pannu on negative reviews of Haseen Dillruba: 'I don't mind criticism, I have made a career out of it'
Published on Jul 18, 2021 02:20 PM IST
Taapsee Pannu talks about criticism of her recent Netflix film, Haseen Dillruba, how portraying such characters affect her in personal life and more in an interview.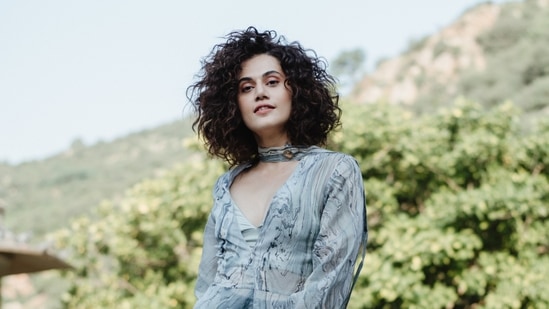 Taapsee Pannu has said that she does not mind negative reviews, but was affected when Haseen Dillruba was slammed. She also said that she made peace with the fact that not everyone will be happy with her, or like her films.
In an interview with Hindustan Times, Taapsee Pannu talked about why she reacted to a few reviews that panned her recent Netflix film, how playing such characters affects her mentally, and more.
Here are a few excerpts from the interview:
You reacted strongly to a few negative reviews of Haseen Dillruba. Isn't film a subjective piece of art that can have different impact on different people?
Of course, of course it can. None of my films have ever received unanimous good reviews and I can tell you that because I have read every review of my every film till date. Some unanimously received terrible reviews. I do not think anyone has seen me react till now. I don't mind criticism, I have made a career out of it. If you go back and read reviews of my films, there are things that could make a person quit. But I took it all in my stride and worked on myself. I have been vocal about this - I did not know my job well, I have learnt it over a period of time, while I was at work. I do not take myself too seriously, but I take my work very seriously. You can make fun of me, but not my work ethics. I have heard nastiest of things about me, but that comes with the job (that I do). I made peace with it (the criticism) ten years ago.
The other thing that appalled me, was the feminist lens of movie reviewing. Do not single out one or two scenes and making the whole film about those. Don't tell me you will tell the character what she should have done. The idea of feminism is, you do not tell the woman what she needs to do, that is female version of mansplaining! Kanika Dhillon (Haseen Dillruba's writer) and me, with the kind of filmography that I have, wouldn't do anything that goes against women. See the film as a film.
Tell us about the transition you go through while zoning in and out of your characters?
Both are slightly tricky. Before Pink, I never did such films that could impact me in such manner. After Pink, I was mentally disturbed. We shot for 30-32 odd days and (to believe that you are the victim of molestation for that long), everyday for 12 hours. Whether you like it or not, you wake up with a feeling that you have gone through it (molestation). I became so vulnerable that I started crying at things like.....looking at a beggar made me cry. Probably a national anthem playing on TV, something as basic as that (made me cry). I became so vulnerable. I had to disconnect, go to my family and make myself believe that it did not happen (in reality) and was just a film.
My personal wardrobe, my dressing style a lot changes after every film. I end up leaving a part of real me with every character. There is a part of me that changes forever with each film. That is the price I pay (for my art). There is no other way I know. I only know this way of force-feeding my brain into believing that I am that character, going through all that. Now I have gotten used to it. That is just one side of the job that I have made peace with.
Your characters in Badla and Haseen Dillruba were particularly flawed.
I have portrayed flawed characters in Manmarziyan and Badla but Rani was a totally different grain. The only thing similar (between Taapsee Pannu and Rani Bhatia, her Haseen Dillruba character) was that they are from Delhi. I am not this person who uses sensuality for herself. I do not have that 'ada' (style). I am not someone who is going to intimidate my man to get my way.
Also read: Taapsee says boyfriend Mathias 'does not understand emotions in her films'
I am more of Rumi (from Manmarziyan) than Rani. And, I am not this mushy. This idea of romanticising the idea of love does not come naturally to me. I am the most non-romantic person, in all my relationships, my man has always been more romantic than me. Rani made me aware of my sexuality and sensuality in my own body that I was unaware of. I have never used it, neither in professional nor personal life. Now, I am slightly more aware of the feminine side of me.