Taapsee Pannu tells paparazzi 'aapko lag jayegi' as they try to click pics, internet calls her 'junior Jaya Bachchan
Jan 10, 2023 05:45 PM IST
Taapsee Pannu's latest banter with paparazzi left people on the internet calling her the new Jaya Bachchan. She was seen taunting media people to be careful while trying to click her in the city.
Actor Taapsee Pannu was snapped out and about in Mumbai. On Tuesday, she shared a chat with paparazzi who surrounded her to click her photos. She was seen getting inside her car in a video. The video left social media users comparing her to Jaya Bachchan. Also read: Taapsee Pannu on personal boundaries and paparazzi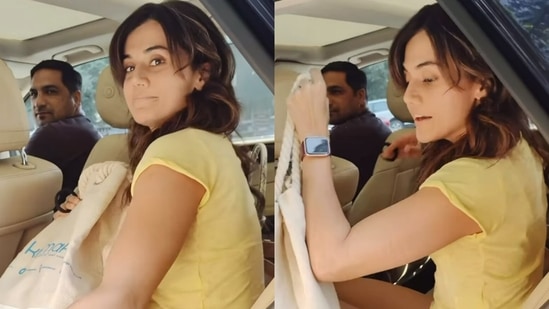 Taapsee sported a casual look in a yellow top with denim shorts. She had her hands full with big bags. While Taapsee did not pose for the media, she is heard warning them to be careful with their steps.
She tells them in the video, "Dhyan se aapko lag jayegi, phir bologe actor ki wajah se lagi (Be careful, else you will hurt yourself and then blame the actor." One of the camerapersons responds, "Nahi madam, hum waise nahin hain (We aren't anything like that)."
The Thappad actor got inside her car and briefly said hi to the paparazzi and closed the door. Reacting to the video, a user took to the comment section and wrote, "Hamesha chid chidi kyu hoti he ye (Why is she always in a bad mood)." "Too much attitude. Respect cameraman. They made uh whatever u are today," added another one.
Many also began to compare Taapsee with Jaya Bachchan who is infamous for her response towards paparazzi. Someone commented, "Iske andar bhi ek choti si jaya bacchan rehti hai wese (She has a little Jaya Bachchan in her)." "Agar koi comfort nahi hai camera ke leye...kyun uske hi piche pade rehte ho...then gali hi sunoge jese Jaya Bacchan karti hein (If someone isn't comfortable with camera, why do you run behind them, you are bound to be abused just like Jaya Bachchan)" said yet another user.
From time to time, Taapsee's interaction with paparazzi has gone viral in the past. In one of them, she requested them to not block her way as she was trying to get inside her car. Speaking about paparazzi following her, she told India Today, "It does bother me because, after a point, I realised that they are doing it knowing they are going to irk me. Why will you hold my car's door when I have gotten in? This is intruding my private space. Imagine if you are getting into your car and there are people who have held the car door and not letting you shut the door and shoving the camera in your face, will you like it? Any person, regardless of being a girl or boy, would you like it?"
"I walk without bodyguards. Just because of that, you have the liberty to shove your cameras and mike into me, physically, and not give me a regular human being's breathing space just because I'm a public figure. It gives you the liberty to violate my personal space. And then, obviously, the icing on the cake becomes when the media make headlines that I'm arrogant. If I'm arrogant to ask for basic human respect of space, then please call me arrogant, but I will not just try to sugar-coat and be this good girl because I'm in front of this camera. I am not that person. You get what you see," she added.
Taapsee was last seen in Blurr. She has Dunki and Woh Ladki Hai Kahan in the pipeline.