Vivek Agnihotri breaks silence on wife Pallavi Joshi's accident on The Vaccine War sets. Here's what he said
Jan 18, 2023 03:31 PM IST
Vivek Agnihotri spoke about his wife Pallavi Joshi's accident on The Vaccine War sets. Here's what he has said.
Filmmaker Vivek Agnihotri broke his silence days after his wife-actor Pallavi Joshi met with an accident on sets of his upcoming film The Vaccine War. Taking to Twitter on Wednesday, Vivek posted a candid photo of Pallavi Joshi smiling as she sat at a table. She wore a white jacket and looked at someone. (Also Read | Pallavi Joshi struck by vehicle on the sets of Vivek Agnihotri's The Vaccine War in Hyderabad)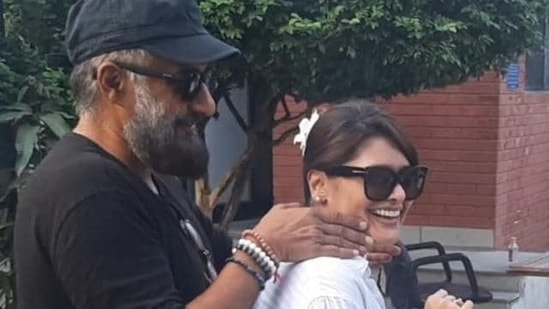 Vivek captioned the post, "On behalf of #PallaviJoshi, I'd like to thank all her well-wishers and fans for their concern. While shooting, a car ran over her foot. The bone will take its long course to heal but she limped back today to sets to give her shot. Show must go on. (folded hands emojis)."
Reacting to the post, Gulshan Devaiah commented, "Aiyyo. Wishing her a full & speedy recovery." Several fans also wished Pallavi good health. A person tweeted, "Concerned to hear the news. Get well soon wishes to her." "Warm wishes for a quick and healthy recovery," read a comment.
Earlier Vivek's team had confirmed that Pallavi got injured on the sets of the film when she was hit by a vehicle. The accident took place in Hyderabad where Pallavi was filming. Pallavi's accident occurred when the vehicle lost control and hit her. As per reports, she continued to shoot after her injury.
Vivek recently commenced shooting for his next directorial, The Vaccine War. He had announced The Vaccine War in November 2022 and also unveiled the official poster of the film. He had written, "Announcement: Presenting The Vaccine War' - an incredible true story of a war that you didn't know India fought. And won with its science, courage and great Indian values. It will release on Independence Day, 2023. In 11 languages. Please bless us. #TheVaccineWar."
The movie is scheduled to be released on August 15 in 11 languages--Hindi, English, Gujarati, Punjabi, Bhojpuri, Bengali, Marathi, Telugu, Tamil, Kannada, Urdu and Assamese. The project will be produced by Pallavi Joshi's I Am Buddha Productions and Abhishek Agarwal via his banner Abhishek Agarwal Arts. The film stars Anupam Kher, Nana Patekar and Sapthami Gowda.