Watch 1995 video when Sushmita Sen took her final walk as Miss Universe, crowned Miss USA
Feb 03, 2023 05:36 PM IST
In 1995, Sushmita Sen was the epitome of classic Indian beauty as she crowned the new Miss Universe, a year after winning the beauty contest herself. Watch Sushmita's final walk as reigning Miss Universe, and the moment she crowned her successor Chelsi Smith, Miss USA.
1994 was an unforgettable year for Sushmita Sen. At the age of 18, she became the first Indian to be crowned Miss Universe. A year later, Sushmita returned to the beauty pageant as the reigning Miss Universe 1994. At the event, she crowned Miss Universe 1995 Chelsi Smith, wearing the most elaborate, shimmering ethnic outfit – an anarkali, complete with a matching dupatta and veil over her head. Before crowning her successor, Sushmita also strutted along the stage confidently, winning the admiration of not only the audience, but also millions of Indians, who watched her on their television screens. Also read: Sushmita Sen reacts to Harnaaz Sandhu's gown with her face on it, calls it 'beautiful tribute'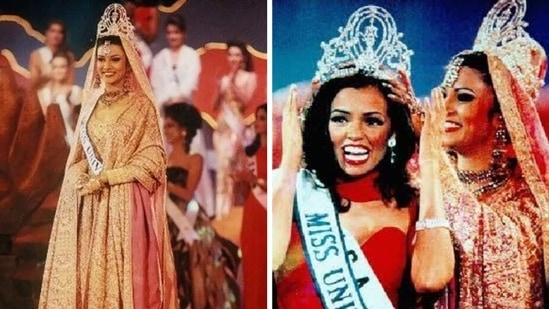 Recently, a video montage of Sushmita from Miss Universe 1995 and Harnaaz Sandhu from Miss Universe 2022 was shared on Instagram by the account Pageants and Purpose. Harnaaz, who was Miss Universe 2021, was seen crowning her successor R'Bonney Gabriel, Miss USA; while Sushmita was seen crowning another Miss USA, Chelsi Smith, in the throwback video. An excerpt of the accompanying caption read, "Coincidentally, it's the second time that the reigning country India has crowned Miss USA as the next Miss Universe!" Reacting to the video, an Instagram user wrote, "Proud to be an Indian." Many others wrote Sushmita Sen's name in the comments section and dropped heart emojis.
Sushmita's farewell walk as Miss Universe 1994, moments before the crowning ceremony, was also shared on a YouTube account, Portal Miss. In the old video that was posted in 2012, Sushmita smiled and walked on stage as beauty queens from around the world stood around her and clapped for her.
A voice-over of Sushmita's played in the background, in which she said, "What I give away tonight is only my crown. But I carry with me for the rest of my life, beautiful memories and a heart full of love that I experienced during my reign. I must thank for this moment of glory, my motherland India and her proud people, my parents, my brother, my friends, my teachers. For these are the people who made me who I am today and helped me realise my greatest potential. Tonight as I leave, I shall not say goodbye because every ending has a new beginning. What the world calls the end of a caterpillar, God calls it a butterfly. So watch out world. Here I come, God bless and peace, Jai Hind."
Many YouTube users commented on Sushmita's video. One wrote, "I still don't believe this farewell speech came from a 19-year-old. Sushmita is what the essence of Miss Universe is all about. Still watching it after all these years." Another one wrote, "Glorious! The best final walk ever! She is proud of her motherland, she wears her traditional dress, shares meaningful message, perfect execution... The best!" Another one said, "It's cool that she chose to wear Indian traditional dress with veil during the final walk. She looked like Mother Mary (mother of Jesus Christ)." One person also said about Sushmita, "She's the perfect description of beauty and brains! The epitome of a real Miss Universe."
Since her history-making Miss Universe win, Sushmita Sen has become a well-known actor not only in Bollywood, but also in the Tamil and Bengali film industries. She is also known for speaking her mind and has been at the forefront of various women's causes and welfare initiatives, over the years. Sushmita is now filming for her web series, Aarya season 3.