Flashback at 90: A Kapoor daughter recalls family's filmy journey from Peshawar to the pinnacle
Hindustan Times, Gurgaon |
, Gurgaon
Nirupama Dutt
Apr 18, 2018 08:00 PM IST
She is a sister of the legendary Prithviraj Kapoor who was the patriarch of a clan often called the First Family of Indian Cinema
A storehouse of memories of the early days of Indian cinema, there is not a dull moment with Shanta Kapoor Dhawan in her Palam Vihar home. Vivacious, witty, hospitable and all of 90 years, Shanta is a sister of the legendary Prithviraj Kapoor who was the patriarch of a clan often called the First Family of Indian Cinema.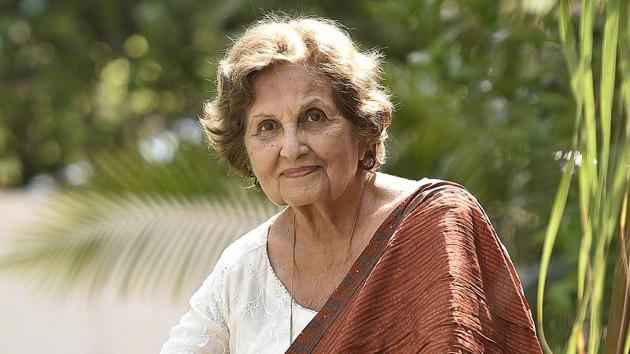 "I was a mistake," she laughs, for she was the youngest among five brothers and three sisters, born to Basheshwarnath Nath and Channo Kapoor. "In fact, I was two years younger to Raj Kapoor, and both Shammi and Shashi called me 'Didi' (elder sister), not 'Bhua' (aunt)," she recalls, referring to Prithviraj Kapoor's sons. "We were a close-knit, joint family and Raj, my two brothers just older to me, Ramesh and Vishwanath, and I grew up together more as siblings."
She was born — like her idol, her 'Bhapa' (brother) Prithviraj — in Samundri in the Punjab that is now in Pakistan, where her grandfather Keshavmal Kapoor was a tehsildar (revenue officer) during the British Raj. Her father worked as a police officer in Peshawar. "I faintly recall the four-storey haveli and the basement where we would spend most of our time in the summer. When I was four or five, we moved to Calcutta (Kolkata), as it was then called, to be with Bhapa."
Oh! Calcutta
Theatre was Prithviraj's first love, and he started acting in a Ramlila when he was but a boy. He also did some theatre in Lyallpur (now Faisalabad) and Peshawar. He joined a law course at Lahore but quit in the first year to join Grant Anderson Theatre Company in Calcutta. The Peshawar boy did theatre in English and won acclaim for the role of Laertes in Hamlet. But the company's fortunes sank and the owner returned to England.
"Those were times of struggle," says Shanta. "Bhapa would later tell us that six actors would share one blade to shave. But soon he was offered a job by BN Sircar of New Theatres, who had also discovered KL Saigal, at a salary of ₹60 a month; it was raised to ₹250 and the next raise was to to ₹500. With such a handsome salary for those times, Bhapa brought his family to Calcutta." Those were times when 20 eggs came for 4 anna (25 paisa) , 100 langra mangoes for a rupee, she remembers.
They lived on Hadar Road. The school for Raj, Ramesh and Vishwanath was St Xavier's and Shanta was admitted to Loreto Convent. "We were allowed to go for an occasional film and we usually chose Laurel and Hardy films. We loved to read comic books, and Raj would often mimic the tramp act of Charlie Chaplin which was to be his trademark as Indian cinema's first showman," says the fond aunt. Prithviraj made a mark in several films, and the next destination was Bombay. "The 1941 film 'Sikandar' made Bhapa a big star."
Bombay Talkies
"Matunga Road, where we lived, could well have been called 'Hollywood Street'. It was here that KL Saigal lived, besides Jayant, who was also from Peshawar and whose son Amjad rose to fame as Gabbar Singh of Sholay, kathak dancer Sitara Devi and character actor KN Singh."
She recalls how Raj would organise plays on the terrace and "these people were our audience". She would be given the job at the ticket window. "I did it efficiently but always kept back a little of it to add to the little pocket money we got."
"Once a week we four would be given ₹2 each to watch a movie, travel second-class and have a Coke each! I would queue up for the tickets. Clever, I would buy second-class tickets for them and a third-class for me so that I could have two Cokes!" She recalls with a laugh how Raj would plead with the ticket checkers to see our tickets but thankfully this never happened.
Shanta says that Raj was leader of the gang in pillow fights; "he would be Russia, my two brothers Italy and Germany and the poor I would be bullied into being Abysinnia, the old name for Ethiopia!"
Good girls don't act
"I would often accompany Bhapa on his tasks out, and one day he went to Babu Rao Patel, editor-publisher of FilmIndia magazine. After their talk was over, the man glanced at me and said that he could get me into films. At this, Bhapa hurried me out and later scolded me for making myself look beautiful," remembers Shanta.
The dictum in the Kapoor family was that no daughter or daughter-in-law was to act. "This was because girls were exploited in the film world and it became necessary to have a sugar daddy. So my father and brother must have trembled up there the skies seeing the great grand-daughter's act of 'Sarkaye lo khatiya jadha lage' (referring to Karisma Kapoor). But times have changed, and no one seems to mind it now."
Marriage for this girl, whose friends were stars like Nargis, Meena Kumari, Munawar Sultana and Geeta Dutt, was arranged with a handsome engineer working with the Tatas at Jamshedpur, Chander P Dhawan. It was to be a happy match with the husband, a photographer too, clicking his lovely wife in Munawar Sultana-style dresses and Nargis-chic blouses. It was many years of togetherness until Dhawan passed away in 2015.
"There was joy in bringing up my two sons and two daughters, but time would hang on my hands in Jamshedpur. We had a big bungalow, so I started gathering the workers' children under the big banyan tree in our courtyard to teach them," says Shanta. Once a fakir passing by stopped to bless her and gave her a dried herb; and asked her to soak it in water overnight to drink it when green — he said it was Sanjeevani Booti (the life-giving herb). She did so. "Now my children tease me that I look young at 90 because I drank the Sanjeevani!" Shanta lives with her younger son.
Standout memory
A fond yet comic family memory recalled by Shanta is when her nephew Raj Kapoor decided to put his grandfather Basheshwarnath Nath in his film Aawara to have the three Kapoor generations represented. Doing the small role of a judge, the old man would just not read the lines that Raj gave him but say whatever he wished. When prompted to follow the script, the old man screamed out: "You will teach your grandfather! Do you know law better than me? I will say what I have to." Exasperated, Raj told his team to quickly take his shots and be done.