Lata Mangeshkar features on Rolling Stone's 200 Best Singers of All Time, Celine Dion fans miffed at her snub
Jan 02, 2023 10:23 PM IST
Lata Mangeshkar, Nusrat Fateh Ali Khan, and BTS singer Jungkook feature in Rolling Stone's 200 Best Singers of All Time list. Singer Celine Dion is not part of the list.
Late singer Lata Mangeshkar has featured at the 84th spot in Rolling Stone's 200 Best Singers of All Time. The list also stars the late Pakistani singer Nusrat Fateh Ali Khan. South Korean singer-songwriter Lee Ji-eun, better known by her stage name IU, is also a part of the list. BTS' youngest singer Jungkook also features in the list. However, singer Celine Dion has been excluded from the list. (Also Read | Remembering Late Mangeshkar: 5 rare photos of late singer)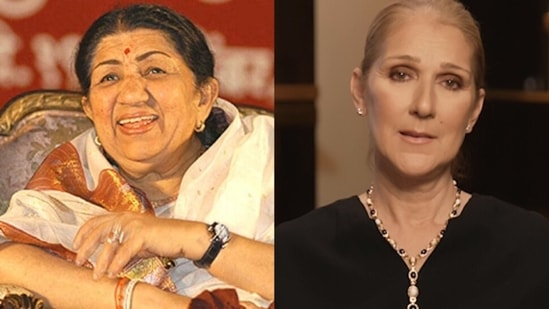 Reacting to Celine's exclusion from the list, a fan wrote on Twitter, "You can't have a greatest singers list without Celine Dion. She's one of the greatest vocalists of our generation. Need I remind you." Another person said, "I want the entire Rolling Stone Top 200 Greatest Singers article deleted IMMEDIATELY. How do you have Michael Jackson at 86, Amy Whinehouse at 83, and Celine Dion not on the list?!?" A tweet read, "Her voice is revered in the same breath as Mariah and Whitney, so I do not understand it!"
Rolling Stone, talking about Lata wrote, "The crystalline, eternally girlish voice of 'the Melody Queen' is a cornerstone of Indian pop music, with a global influence spread via Bollywood films, whose golden era she defined. Lata was the empress of playback singers, the vocal magicians who perform songs for actors to lip-sync in lavish movie musicals, recording over 7,000 such songs, by some estimates."
The top 20 artists in the list are--1. Aretha Franklin, 2. Whitney Houston, 3. Sam Cooke, 4. Billie Holiday, 5. Mariah Carey, 6. Ray Charles, 7. Stevie Wonder, 8. Beyonce, 9. Otis Redding, 10. Al Green, 11. Little Richard, 12. John Lennon, 13. Patsy Cline, 14. Freddie Mercury, 15. Bob Dylan, 16. Prince, 17. Elvis Presley, 18. Celia Cruz, 19. Frank Sinatra and 20. Marvin Gaye.
Some of the other famous singers on the list include--Adele (22), Paul McCartney (26), David Bowie (32), Louis Armstrong (39), Ariana Grande (43), Lady Gaga (58), Rihanna (68), Amy Winehouse (83), Michael Jackson (86), Nusrat Fateh Ali Khan (91), Bob Marley (98), Elton John (100), Taylor Swift (102), Ozzy Osbourne (112), Neil Young (133), IU (135), Bono (140), Christina Aguilera (141), Barbra Streisand (147), Jungkook (191) and Billie Eilish (198).
Lata Mangeshkar died in February 2022 at the age of 92. She sang many songs in her career and recorded them in over 36 languages. She lent her voice to actors such as Meena Kumari, Jaya Bachchan, Rakhee, Sharmila Tagore, Sridevi, Kajol and Madhuri Dixit among many others.
Born in Indore, Madhya Pradesh, she is the recipient of the Dadasaheb Phalke Award and Bharat Ratna for her exceptional contribution to the field of music. Her name also appeared in Guinness World Record as the most-recorded artist between 1948 and 1987. Her last recorded song was Saugandh Mujhe Is Mitti ki, paying tribute to the Indian Army for their bravery.