Internet thinks Namrata Shirodkar lost at Miss Universe 1993 because of her 'dumb' answer
Jan 19, 2023 11:26 AM IST
At Miss Universe 1993, Namrata Shirodkar was asked 'if she would like to live forever'. Namrata's short answer left a section of online users unimpressed, with many saying they did not like her response, while others said she lost out on the Miss Universe crown because of it.
Namrata Shirodkar represented India at Miss Universe 1993. An old video of the former model and actor, who is married to Telugu actor Mahesh Babu, is doing the rounds on social media platforms like Reddit and Instagram. In the clip, Namrata Shirodkar, who was dressed in a golden gown with heavy earrings, is seen during the questions round at the beauty pageant. Many are reacting to her answer that they think cost her the Miss Universe crown. Also read: Namrata Shirodkar shares old video of her from Miss Universe 1993, fans call it 'wonderful memory'. Watch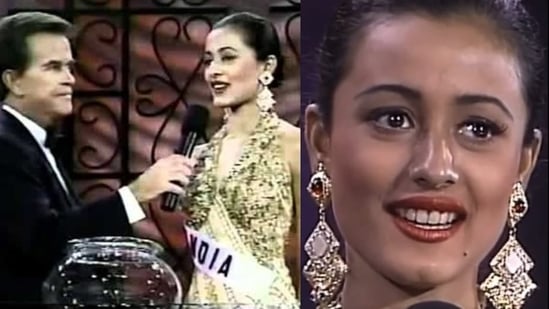 Namrata was asked if she would like to 'live forever', to which she replied she would not want to live forever as she 'believed no one could live forever'. Judges were not impressed by her answer, and she finished in sixth place at Miss Universe 1993. As her old video is being discussed on Reddit, it appears that people, too, are not impressed with Namrata's answer, with some even saying she lost out on winning the Miss Universe crown because of her 'dumb' response to the 'hypothetical' question she was asked.
"I did NOT like her answer. It was a hypothetical question and she said it's not possible. Like, what?" commented a Redditor on a video shared by Reddit account Bolly Blinds N Gossip. Another comment read, "I did not like her answer, it was a hypothetical question, which had to be answered with a yes or a no followed by justification. She contradicted this hypothetical question by saying it is not possible."
A person also wrote, "It's more about how you perform and think under pressure spontaneously. A lot of people are trained in pageant performance and they do well, and yet some don't. It all boils down to how you are as a person and the way you think about things. Namrata Shirodkar, quite honestly, has a history of showing her idiocy to the public, so I don't think that she'd come up with a decent answer in a whole minute either."
Some also shared their own answer to Namrata's Miss Universe question. One wrote, "That's a dumb answer. And no her age is not an excuse. There have been women similar to her age, who have given beautiful answers. Probably could've answered something like 'no I wouldn't like to live forever because anything in excess is a bane, I believe we all come here for a reason and after that it's the nature to make room for another living thing on earth' or something like that would've made more sense. Obviously my answer may not be pageant-standard and hence I'm home..." Another one commented, "'I would only want to live forever if my loved ones could also live forever. Otherwise, I'm happy to leave when it's my time to leave this world'. There I fixed the answer for her."
Before quitting Bollywood, Namrata acted in a number of movies such as Kachche Dhaage, Vaastav: The Reality, Pukar, Dil Vil Pyar Vyar and Bride and Prejudice. Namrata and Mahesh Babu married in 2005, post which she quit her career. They have two children together – daughter Sitara Ghattamaneni and son Gautam Ghattamaneni.
ott:10