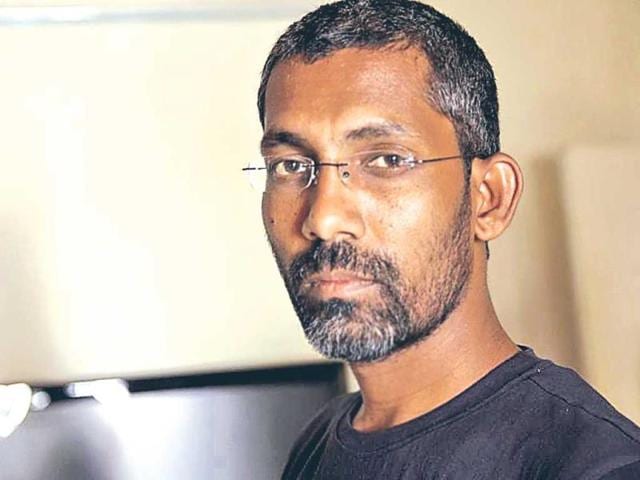 The caste story is not over yet: Nagraj Manjule
Winner of the Grand Jury Prize at the Mumbai Film Festival (MFF), 2013, Nagraj Manjule's Fandry is the coming-of-age tale of Jabya, a Dalit boy whose family lives on the fringes of Akolner village, and does menial jobs to get by.
Hindustan Times | By Lena Saha
UPDATED ON MAR 02, 2014 12:02 AM IST
To the city-bred, the word fandry might sound intriguing, anglicised, even exotic. For those who know Kaikadi, a language spoken by a Dalit tribe of the same name in rural Maharashtra, it simply means a wild pig. As the title of Marathi filmmaker Nagraj Manjule's debut feature, it embodies the essence of caste discrimination in the country.


"I have seen and experienced caste discrimination for as long as I can remember," says the 35-year-old filmmaker, who belongs to the Wadar tribe and grew up in the small town of Kamrala in Maharashtra's Solapur district. "I was always angry and conflicted because of my caste and my father's source of livelihood — he was a stone-crusher, who also had to catch pigs. Fandry draws heavily from my adolescence and of those around me."
Winner of the Grand Jury Prize at the Mumbai Film Festival (MFF), 2013, Fandry is the coming-of-age tale of Jabya, a Dalit boy whose family lives on the fringes of Akolner village, and does menial jobs to get by, which includes catching pigs that the higher caste residents consider unclean.
The dark-skinned Jabya is infatuated with his fair-complexioned Brahmin classmate Shalu, but is unable to articulate his feelings for her as he fears being rejected because of his caste. In vain, he looks for a mythical black sparrow, sacrificing which he believes will win him Shalu's affection. Describing the parallel with his life, Manjule says: "I was that boy who bunked school and roamed around in the afternoons searching for that bird. It was not so much about liking a person as it was about gaining respect and being considered worthy enough to be talked to."
"Like Jabya, I too wanted jeans trousers," he says. "But owing to poverty, they kept eluding me — from one month to the next, from one festival to the next."
Manjule doesn't believe the caste system is losing traction. "That's only in words," he says. "In reality, everybody is just ensconced in their own little comfortable compartments. Of course, the caste system serves the interests of our politicians."
Even languages aren't spared. "Jabya's family is afraid of speaking Kaikadi, their mother tongue, in front of guests, because they fear this will lower their social standing even further," he says.
With a climactic sequence that lays bare the hypocrisy of our social system and a seemingly uplifting final scene where Jabya does something reckless, Fandry made a lasting impression on audiences at film festivals in India and abroad. Manjule recalls that, at the London Film Festival, a Bengali family walked up to him after the screening and told him they could relate to Jabya and his family. "Afterwards, they just stood beside me, wordlessly." A woman who watched the film at the Abu Dhabi Film Festival made a Facebook plea to all Marathis settled in the city to not miss it. "It has become the people's film."
Quizzed about the unusual reactions of some audience members at MFF (where this reporter was present) — one moment they were laughing at Jabya and his family when they were feeling the most humiliated; the next moment they were applauding him in the last scene — Manjule says: "That's a trap I laid for the audience — it defines what kind of a person you are. Initially, they make fun of Jabya, but when they find themselves lauding him, the weight of their earlier action hits them harder."
Although Manjule has earned acclaim for his film, this is not the first time his work has been recognised. He won the National Film Award for Best Non-Feature Film for his diploma short Pistulya in 2010.
And yet, filmmaking happened by chance. "I was pursuing post graduation in Marathi literature from Pune University," he recalls. "I was never a good student and was unable to clear a professor's eligibility test despite repeated attempts. A friend, who had become a mass communication teacher, suggested I join that course. It was during this time that I made Pistulya."
Manjule admits his education in world cinema started quite late. "I had grown up on the films of Amitabh Bachchan, Jitendra and Anil Kapoor. I watched Cinema Paradiso only four years ago. Bicycle Thieves is one of my favourite films," he says.

Close