Bigg Boss 16: Karan Johar schools Archana Gautam, says 'Jo kal hua it was disgusting...'
Feb 04, 2023 05:18 PM IST
Bigg Boss 16: In the upcoming episode Karan Johar will scold Archana Gautam for crossing her limits in a task. She threw 'haldi' in the eyes of housemates, and tried to defend herself in the weekend ka vaar episode. Here's how she reacted.
On Saturday, ColorsTV released a promo video of the upcoming weekend episode of Bigg Boss 16. In the video, Karan Johar, who was seen in host Salman Khan's place, schooled Archana Gautam for crossing her limits in a Bigg Boss task. This week, in prize money task, Archana went below the belt and threw turmeric and detergent powder in the rival members' eyes--Shiv Thakare, Nimrit Kaur Ahluwalia and MC Stan. He thrashed Archana for her behaviour in the task when she tried to defend herself. Karan labelled her act as 'disgusting' for which she cannot be forgiven. Many fans reacted to the promo video. (Also read: Bigg Boss 16: Salman Khan finally calls out Archana Gautam, says she's come in 'khairaat')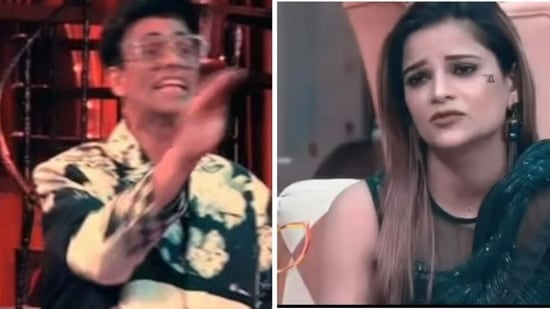 ColorsTv shared the promo on their social media handles with the caption, "#ShanivaarKaVaar mein Karan Johar ne li Archana ki class (In Saturday's episode, Karan Johar will be seen pulling up Archana Gautam)."
The promo video opened with Archana throwing turmeric powder in the eyes of Shiv, Nimrit and Stan to give a context to the viewers. Archana said, "Arey bhaiya haldi thi (It was just turmeric powder)." Karan said, "One minute, I am talking." She created a weird face. Karan continued and said, "Aap apni personal feelings waha nikaal rahe ho woh kis hadd tak sahi hai (You are bringing out your personal grudges in the task, to what extent it is correct)?" Archana defended herself and said, "Sir maine kuch personal nhi kiya (I did not go personal)."
Furious Karan replied, "Archana aapke chehre pe jo khoonas thi, woh maine khud dekha hai (Archana, I saw the feelings of anger and vengeance on your face)." She said, "Sir maine uske liye maafi bhi maangi (Sir, I have apologised for my act)." He raised his tone, and said, "Maafi maangne se jo cheez galat hai woh sahi nhi ho jaati. Jo kal hua it was disgusting (Just by apologising you cannot get away from everything, whatever you did wrong cannot be undone now, whatever happened yesterday was disgusting)."
Reacting to the clip, one person commented, "Arcchana ke haath mai hota toh murder kar deti (Archana would have killed someone)." Another one wrote, "Archana kissi din kisi ko jaan se maar degi fir bolegi sorry galti se hogya hai, hadd hai (Archana can take someone's life, and will end up saying 'sorry', too much to take)."Other person commented, "Thodi toh insaaniyat rakho Archana (Show some humanity, Archana)." A fan came in support of Archana, and wrote, "Archana used turmeric which is really good for skin and far better than what chemicals #Mandali used previous day."
Bigg Boss 16 airs Monday to Friday at 10pm, and on Saturday and Sunday at 9pm on ColorsTV. The show is hosted by actor Salman Khan, and nearing towards its grand finale episode.