Kaun Banega Crorepati 14: Amitabh Bachchan tells shirtless contestant 'kahi aur vastr na utar jaye' as he celebrates win
Published on Aug 26, 2022 07:37 AM IST
Amitabh Bachchan simply looked on as a contestant on Kaun Banega Crorepati 14 removed his shirt and celebrated for quite a few minutes after making it to the hot seat.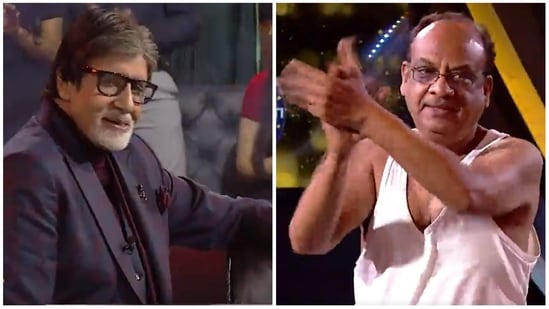 The craze for the long-running quiz show Kaun Banega Crorepati is well known among all of us but the way a contestant celebrated his win in the fastest finger first round was something never seen before on the show. A contestant named Vijay Gupta removed his shirt, hoisted it in the air and then threw it at the audience before going to his wife to give her a hug on making it to the hot seat. Also read: Kaun Banega Crorepati 14: Amitabh Bachchan asks woman why she's delaying marriage despite fiance's 'public exposure'
Vijay even gestured at the audience to not stop clapping as he stood in front of host Amitabh Bachchan holding his shirt. Amitabh Bachchan simply watched him and said, "Sahi hai sir, sahi hai (fine, it's fine)." He later requested him to wear his shirt and said, "Kameez jaldi se pahan lijiye, humko dar hai kahi aur vastr na utar jayein (Quickly wear your shirt please, I am afraid you may remove more clothes)."
The 79-year-old actor even followed him backstage to bring him back. Vijay walked towards backstage to get his mic and Amitabh walked behind him to trace him and bring him back. However, Vijay couldn't do wonders on the hot seat and could take home only ₹10,000.
As Sony shared the promo on social media, other viewers also couldn't stop laughing over the incident. A fan called him, "Bhaiyaji superhit." Another person commented, "Pagla gaye they (He had gone mad)." One more fan reacted, "Haha oh my god."
Meanwhile, Amitabh is on a break from work as he tested positive for Covid-19 this week. In his latest tweet Thursday night, Amitabh wrote in Hindi, "When we used to work, we used to think when we will get leave; now I have got leave, I am wondering when will I get to work."
Two days after being diagnosed with the virus, Amitabh had also written on Twitter in Hindi, "Were thinking of running very fast; a decree fell from above, and I was left standing where I was."
Personalise your news feed. Follow trending topics