KBC 14: Amitabh Bachchan pays attention like a student as contestant explains why maths is one-time investment. Watch
Published on Aug 26, 2022 11:23 AM IST
Kaun Banega Crorepati 14: Amitabh Bachchan listened keenly when contestant Gurudev, a maths teacher, explained to him why the subject is 'a one time investment'.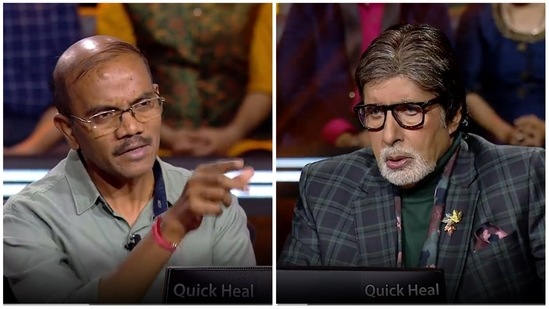 Amitabh Bachchan comes across several contestants on his quiz show Kaun Banega Crorepati 14 and is often left amazed by their knowledge. In the upcoming Play Along Shukravaar episode of the quiz show, Amitabh got to interact with Gurudev, who made it to the hot seat. He is a head of department teaching maths in an academic institution. The actor was left wondering when Gurudev explained to him how maths is actually a 'one time investment'. Also read: Kaun Banega Crorepati 14: Amitabh Bachchan tells shirtless contestant 'kahi aur vastr na utar jaye' as he celebrates win
The promo shows Amitabh Bachchan asking Gurudev how did he manage to become an HOD (head of department) in a subject like maths, which is so difficult. The contestant explained to the veteran actor that maths is a 'one time investment' as whatever he would have learnt in class 2-3, he would still be having that knowledge, while he would have not remembered what he learnt in the subject of history or Sanskrit. Amitabh listened to him carefully and almost in awe and said, "Ab samajh mein aaya aapke mata pita ne aapka naam Gurudev (teacher) kyu rakha hai (Now I understood why your parents named you Gurudev)."
Amitabh is seen asking him a question for ₹12 lakh and when Gurudev choses option B, the actor gestures at something, as if hinting at what next. After several attempts, Amitabh finally tells him that he needs to say it out loud that he wants to lock the option, in order to finalise his answer.
Sony shared the promo for the Friday episode with the caption, "Maths mein nipunta haasil karne waale Gurudev ji apne gyan se jeet paayenge kitni dhanrashi? (How much money will the math champion Gurudev win on the show)?"
In the last episode, Amitabh was shocked to see a contestant who celebrated his win by removing his shirt and asking audience to continue to clap for him. He roamed around the stage in a vest after making it to the hot seat. He finally took home ₹10,000.
Personalise your news feed. Follow trending topics