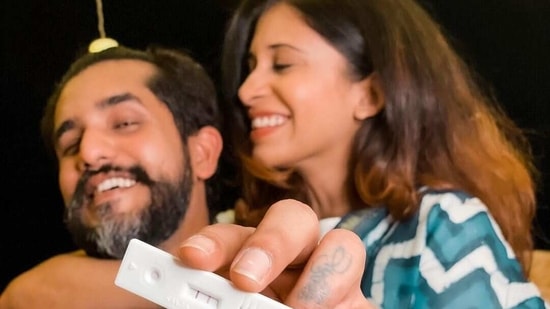 Kishwer Merchant reveals there was silence when her pregnancy was confirmed, Suyyash Rai says 'it was more like a shock'
In a video shared on her YouTube channel, Kishwer Merchant and Suyyash Rai shared their first reaction to the news of her pregnancy. Watch it here.
PUBLISHED ON MAR 10, 2021 05:16 PM IST
Actors Kishwer Merchant and Suyyash Rai, who are expecting their first child in August, revealed their first reaction when they found out about it. Kishwer, in a new video shared on her YouTube channel, asked Suyyash about how he felt when he found out that she was pregnant.
Suyyash joked that two lines on the pregnancy test kit, indicating a positive result, has changed not only theirs but many lives. "It was more like a shock," he said, adding that when Kishwer went to the washroom to take the test and did not come out even after five minutes, he asked her what happened.
"The moment I went in, she is sitting on the toilet seat and she is like…*imitates her being slumped over* And I am like, 'Oh s**t, are you serious?'," Suyyash said. Kishwer said that there were several minutes of silence.
Suyyash revealed that just two days before Kishwer took the pregnancy test, her mother asked them about having children, but they 'strictly' told her that they were happy being 'pet parents' for now.
Also read: When Shah Rukh Khan was told during DDLJ shoot how his sister 'will not survive'
"But I also feel that because it was my 40th birthday on February 3 and because we have completed 10 years this year, it was completely due. It's like a gift from God for us," Kishwer said.
Last week, Suyyash and Kishwer announced the happy news with adorable Instagram posts, featuring pictures from a photoshoot on the beach. "You can now stop asking 'when are you guys gonna have a baby' Coming Soon .. #august2021 #sukishkababy," she wrote in her caption. He, meanwhile, quipped, "Mai tere bacche ka baap banne wala hun (I am going to become the father of your child) @kishwersmerchantt ! Coming this August."
Suyyash and Kishwer, who first met on the sets of her show Pyaar Kii Ye Ek Kahaani in 2011, tied the knot on December 15, 2016.
Topics
Close