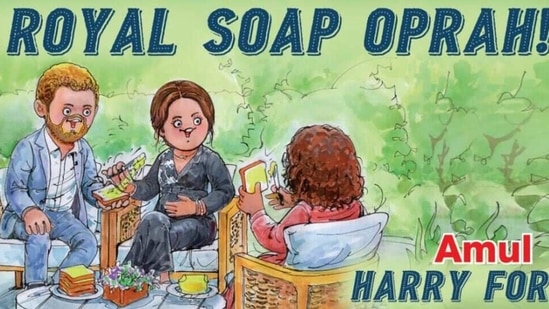 Meghan Markle-Prince Harry interview gets Amul creative makeover, see 'Royal Soap Oprah'
Amul has dedicated a creative to the recent Meghan Markle and Prince Harry interview with Oprah Winfrey. See it here.
UPDATED ON MAR 10, 2021 01:15 PM IST
Meghan Markle and Prince Harry's interview with celebrity show host Oprah Winfrey got an Amul creative makeover. The Twitter account of dairy products brands dedicated a special post to the much debated interview.
Sharing it on Twitter, the account said: "#Amul Topical: High profile interview of Prince Harry and Meghan Markle!" The graphic was a created much on the lines of the show, showing Oprah as the Amul girl, holding a slice of bread with butter on it. Sitting opposite her are the senior British royals. On the table in front, is a spread of bread and butter. Written on it are the words: 'Royal Soap Oprah' and "Harry For It".
On Sunday, Meghan and Harry appeared for a CBS interview with Oprah in which they spoke about the racism she faced as a mixed-race woman married into British royalty, how the 'dark skin' of her child was debated during her pregnancy, security concerns and about dealing with suicidal thoughts.
The explosive TV interview has divided people around the world. During the two-hour appearance with Oprah, Harry also revealed the problems had ruptured relations with his father, Prince Charles, and brother, Prince William, illuminating the depth of the family divisions that led the couple to step away from royal duties and move to California last year.
Also read: Simi Garewal doesn't 'believe a word' of what Meghan Markle said, calls her 'evil' for playing victim, then backtracks
A number of Hollywood celebrities have come out in support of Meghan including Games of Thrones star Sophie Turner and American music sensation Beyonce. Tennis star Serena Williams, too, supported Meghan. Indian actor and show host Simi Garewal slammed Meghan for the interview, dubbing it as 'evil' but she backtracked later. She did accuse Meghan of using 'race card'.
(With AP inputs)
Close